by
John R. Fischer
, Senior Reporter | March 21, 2023
Children's Minnesota is introducing a hybrid intraoperative MR suite for pediatric patients that can be moved alongside surgical equipment simultaneously for real-time adjustments during operations.
During surgery for brain tumors, epilepsy or traumatic injuries, the Kid Experts team at Children's Minnesota can move the scanner from the diagnostic room into one of the neurosurgery operating rooms where they can perform scans mid-procedure. Doctors can adapt their plan at the point of care to address any additional abnormalities found, preventing patients from undergoing more procedures.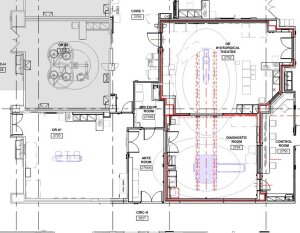 "A lot of pediatric brain tumors are benign. The removal of the entire tumor — under both the operating microscope and on MR — is curative and leads to high chances of a successful treatment for these patients," Dr. Meysam Kebriaei, medical director of the neurosurgery program at Children's Minnesota, told HCB News.
The Richard M. Schulze Family Foundation iMRI Surgical Suite is 2,970 square feet and has three rooms in its neurosurgery space. It includes a 16,200 lb 3T MR magnet designed by Siemens, while the suite was designed by IMRIS.

For those who need to move fast and expand clinical capabilities -- and would love new equipment -- the uCT 550 Advance offers a new fully configured 80-slice CT in up to 2 weeks with routine maintenance and parts and Software Upgrades for Life™ included.

The floor plan enables patients in the second OR to be moved next door into the diagnostic room for a mid-procedure diagnostic scan, and for operations to be performed in both ORs while the scanner is used simultaneously in the diagnostic room.
In 2018, Siemens Healthineers
teamed with IMRIS
in the field of iMR technology, selling the latter's moving ceiling-mounted intraoperative iMR and iCT imaging modalities alongside its own fixed CT, MR and angiography solutions.
IMRIS is the only iMR manufacturer in the world that has an MR scanner that moves via a ceiling-mounted rail system between the diagnostic room and adjacent operating rooms.
The Richard M. Schulze Family Foundation donated $4 million toward the construction of the iMR Suite.
Ryan Companies US Inc. was the general contractor.
Children's Minnesota is one of the largest pediatric health systems in the U.S. and the only in Minnesota that provides care exclusively to children. It caters to 166,525 patients annually (excluding primary care visits) and consists of two free-standing hospitals, nine primary care clinics, multiple specialty clinics, and seven rehab sites.
Back to HCB News