by
John R. Fischer
, Senior Reporter | March 18, 2019
From the March 2019 issue of HealthCare Business News magazine
He adds, however, that the desire to provide comfort should not interfere with safety. "You want to be careful you don't create issues with patient safety or interfere with the imagingprocess. For a consumer, that's a point to keep in mind when looking to purchase equipment."
For providers seeking to calm pediatric patients during procedures, a medley of options are available, from mock scanners and proxies to lightweight coil technology to video and audio systems. But technology alone does not make all the difference in imaging children. The right skills, expertise and understanding by staff members must also be present.

Quest Imaging Solutions provides all major brands of surgical c-arms (new and refurbished) and carries a large inventory for purchase or rent. With over 20 years in the medical equipment business we can help you fulfill your equipment needs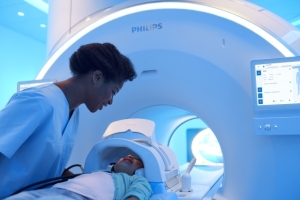 Where the fight against fear is headed
Prepping children for any exam requires more than just the right technology. It mandates a need to relay as much information to them as possible on a level they can comprehend. To do this, teams of child specialists are dispatched to consult and interact with the child, as well as their family, to speak to them in terms they can understand about what to expect, so that procedures can be performed as seamlessly as possible.
"We have kids drink oral contrast," said Dr. John MacKenzie. "A child specialist may approach it like 'We need you to drink this so we can see inside you. When you drink it, tell me what you taste,' rather than 'This stuff doesn't taste good, but I need you to drink it.' It frames the situation differently. Little things like that go a long way."
But radiologists, technologists and staff have a duty to prepare the child, a task that is very different from prepping an adult for imaging. "The biggest component is to have the mindset, when you are working with children, that the child is in control, not you," said Dr. Shreyas Vasanawala. "It doesn't run quite on the same clock that an adult operation would. You have to be more patient. You have to book more time to just work with the child."
At Stanford, Vasanawala relies on GE's Air Technology, a "blanket-like" suite of lightweight and flexible radiofrequency (RF) coils that enables greater freedom in coil positioning and handling during MR scans, for procedures such as brain or body scans where the patient is traditionally covered in a heavy coil that can create discomfort or deter them from going through with the exam.