by
John R. Fischer
, Senior Reporter | March 06, 2019
Hitachi Healthcare introduced a range of products for CT and ultrasound this past week at the European Society of Radiology in Vienna Austria.
Among its new solutions was the standard version of its 64/128-slice CT scanner, the SCENARIA View, a whole-body CT scanner which made its debut at the event and is now available for sale alongside the advanced version, which was recently displayed at the 2018 Radiological Society of North America this past November in Chicago.
"The advanced version is a full-option CT scanner with cardiac capabilities and dual energy features. It has a side slide table, which means it moves in six directions (up, down, in, out, right and left), while the standard only has the long table," Esztergalyos Janos, MR/CT product manager for Hitachi Medical Systems Kft., told HCB News. "It is also available with an 84 kW generator, compared to the standard, which only has a 72 kW generator. With such qualities, the advanced system is a good selection for medium-sized hospitals and cardiology centers, whereas the standard version is more suited for private practices and military hospitals."

Carestream Health is a leading provider of quality X-ray systems and detectors that are designed to maximize diagnostic confidence, workflow and patient satisfaction. Follow the link above to see our complete portfolio of digital radiography solutions.

Designed with an 80-centimeter bore, both the standard and advanced version can assess different-sized patients, and both are equipped with a broad range of clinical applications, including ones for high-dose reduction. The Japanese healthcare giant also launched a new set of ultrasound systems, three of which are ARIETTA 65, ARIETTA 50 and ARIETTA 50LE (Limited Edition).
A mid-range product, ARIETTA 65 is based on the design of Hitachi's premium ultrasound system, including its 21.5 meter monitor and four connectors, but is meant as a more cost-efficient solution for providers who do not require all of the premium version, which offers 3D, fusion, contrast and elastography in real-time capabilities, among others.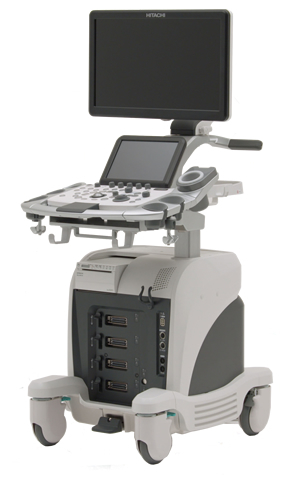 "With ARIETTA 65, we keep the real-time tissue elastography and contrast from the premium system. So we have nice features but not the full package," Anne-Laurie Jet, international product manager for ultrasound at Hitachi, told HCB News. "The workflow is also simpler, so we have fewer buttons to manage, making it easier to use."
It also has fewer buttons on its keyboard, offering a simpler workflow for improved throughput and optimized productivity for reduced scanning time.
ARIETTA 50 is designed with minimum features to ensure easy use among beginners, and provide a simple workflow. It is composed of a big screen, three connectors and a fixed monitor arm, as well as contrast and basic features such as B-mode and color mode.
ARIETTA 50LE, meanwhile, consists of four connectors and a screen with a flexible monitor arm that can be moved easily. "With ARIETTA 50LE, the workflow is more convertible because we can move the monitor easily and have additional connectors for the transducers. It might be more suited for shared services and big departments if they need more applications for extra help. ARIETTA 50 and its three connectors, in contrast, are more for those that require high image quality but with a minimum set of capabilities."
The three are now available for sale in Europe.