by
Lauren Dubinsky
, Senior Reporter | April 15, 2019
From the April 2019 issue of HealthCare Business News magazine
Experts agree that transcatheter aortic valve replacement (TAVR) is a revolutionary and lifesaving treatment option for severe symptomatic aortic stenosis.
Dr. Jaffar M. Khan of the National, Heart, Lung, and Blood Institute (NHLBI), which is part of the National Institute of Health (NIH), referred to TAVR as "one of the greatest achievements in interventional medicine in our lifetime," but readily acknowledges that it is not safe for every patient.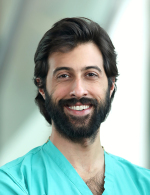 Patients who are at risk of coronary artery obstruction, for example, face a 50 percent chance of dying if they undergo the treatment. According to Khan, 100,000 TAVR procedures were performed last year in the U.S. and about 1 percent of those were at risk of or went on to develop coronary artery obstruction.
In order to make this procedure safer for that subset of patients, Khan and his team at the NHLBI developed a technique called Bioprosthetic Aortic Scallop Intentional Laceration to prevent latrogenic Coronary Artery obstruction (BASILICA).
This technique involves the interventional cardiologist weaving an electrified wire through a catheter and using it to cut the patient's leaflet in two. Splitting the leaflet in half ensures that it cannot block the coronary artery when it is pushed aside by the transcatheter heart valve.
In a recent study, the team tested the BASILICA technique on seven severely ill patients who qualified for "compassionate use" since there was no other treatment option available for them. All of the patients had a successful TAVR procedure and did not experience coronary artery obstruction, stroke or any other major complication.
In addition, they were doing well when they reached the 30-day-mark after the procedure. Starting in January, the team began enrolling patients in a multicenter early feasibility study, which is sponsored by the NHLBI, to evaluate BASILICA.
This technique was a result of collaboration between NHLBI and colleagues at the University of Washington in Seattle, Henry Ford Hospital in Detroit and Emory University Hospital in Atlanta.
"Since the first procedure in June 2017, there have been over 150 BASILICA procedures performed across North America and Europe," said Khan. "Operators are eager to learn the technique to offer this to patients who have no other options."