by
Lauren Dubinsky
, Senior Reporter | April 15, 2019
From the April 2019 issue of HealthCare Business News magazine
What about other risks?
Coronary artery obstruction isn't the only risk that patients undergoing TAVR might face. A condition called aortic regurgitation or aortic valvular insufficiency occurs when the aortic valve leaks during the procedure.
"The clinical experience with the currently approved valves for the indication of severe aortic stenosis has been suboptimal in severe aortic valvular insufficiency," said Dr. Dean Kereiakes, medical co-director of the Linder Research Center at the Christ Hospital in Cincinnati. "There is a higher rate of valve misplacement, valve migration and the need to put a second valve in. These are significant concerns when trying to use the approved valves."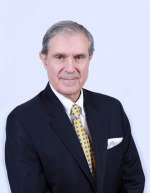 Aortic valvular insufficiency is more common in men than women and the risk of it increases with age – peaking at 40 to 60 years old. The Framingham Heart Study, which included 1,696 men and 1,893 women, found that the prevalence of aortic valvular insufficiency was 13 percent in men and 8.5 percent in women.
"We find that about 25 percent of the patients we are currently doing TAVR on in our database have at least moderate to severe aortic insufficiency," said Kereiakes. "In addition, up to 30 percent of the aortic valve replacements in the U.S. are done because of valvular regurgitation."
Since there are no approved valves for this condition, a California-based company decided to be a pioneer in this market. JC Medical designed its new J-Valve TF System to be a catheter-based option for treating these patients.
The system features a proprietary anchor mechanism and a self-expanding stent frame that attaches to the patient's failing heart valve. It's made up of three anchor rings that look like helicopter blades pointing downward when deployed.
As the valve is advanced over the wire, the rings are deployed and the interventional cardiologist can orient the valve into the sinuses. It's designed with cutouts in the stent frame so nothing can get in the way of the coronary arteries.
In January, Kereiakes performed the first successful treatment in the U.S. using J-Valve on an 80-year-old female patient who is now very functional and able to ambulate freely.
"The patient is doing tremendously well and we are trying to line up another patient for compassionate use because I don't think the feasibility study will get off the ground in time to help this man," said Kereiakes.