by
John R. Fischer
, Senior Reporter | May 09, 2019
A new study is touting the application of peptide receptor radionuclide therapy (PRRT) in treating malignant neuroendocrine tumors, based on the long-term outcomes experienced by patients.
The 12-year retrospective study evaluated the progress of 44 patients with advanced tumors and enhanced somatostatin receptor expression. Its completion builds on the limited knowledge available about long-term outcomes with the over 20-year practice of PRRT.
"The reason for these long periods lies in the fact that the vast majority of neuroendocrine tumors, which are treated by PRRT, show a slow tumor progression," Michael Gabriel, and Irene J. Virgolini, of the Department of Nuclear Medicine at the Medical University of Innsbruck in Austria, told HCB News. "So it requires a longer observational period to assess the benefit of this treatment approach. Furthermore, in case of initial good response on PRRT, many patients are repeatedly treated, which was well tolerated by these patients."
The overall response rate of PRRT ranges from 70-80 percent with yttrium-90 (90Y)-DOTATOC, which is best for treating larger tumors and lutetium-177 (177Lu)-DOTATATE for smaller tumors. Those who respond to it generally receive favorable prognoses, with median time to disease progression between three and four years.
For their study, researchers treated 27 men and 17 women who ranged in age from 40 to 84. The mean age for all was 60 in regard to when they were initially diagnosed. Those who received 177Lu-PRRT had a mean number of cycles administered of 5.3 ± 2.5, while participants who received 90Y-PRRT had a mean number of 5.5 ± 2.6. Median follow-up was 80 months.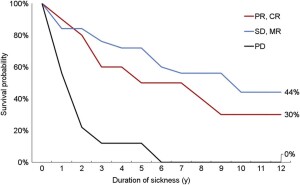 Though the median overall survival rate was 79 months, 32 percent of patients were still alive more than 12 years after they began treatment, a total of six men and eight women. Those who experienced progressive disease early following the start of therapy had poor prognoses, while those with no more than two tumor sites benefited the most from treatment.
Gabriel and Virgolini warn that additional factors must be assessed, such as side effects and quality of life for patients. They do, however, see their study helping to define the value of the therapy for neuroendocrine tumors, in comparison to anti-tumorial drug treatments.
"At the moment, many approaches are based only on histopathological findings for individual tumor lesions. In addition, molecular drug imaging in solid tumors will also encompass novel targeted radiotracers for new applications in noninvasive tumor-characterization, staging or radioligand therapy."
The findings were published in the
Journal of Nuclear Medicine
.