A first-of-its-kind study on robotics following stroke show marked improvements in active upper limb movement, compared to conventional outpatient physical therapy. Not only was that recovery sustained, but it continued improving for as long as three years following the completion of therapy.
A Veterans Administration (VA) multi-site robotics study in 2010 found that robotic therapy yielded noticeable improvements in functional upper limb use, active movement and quality of life, as well as a 34% fewer healthcare costs over three months.
As human therapists help patients recover following stroke, they need help, and that can come from artificial intelligence-powered robotics. Machinery in medical settings can be intimidating for patients, but physicians can help patients rest assured that this technology has a profound impact on the efficiency of physical therapy.
That impact is driven by the fact that human physical therapists are limited by the movements they can explain and motivate the patients to perform, detect, guide, assist and monitor. The aforementioned 32 to 80 recorded movements per session are capped that low because human therapists can guide and assist a limited number of them.
On the other hand, robotic physical therapy systems — under the supervision of a therapist — are capable of motivating, detecting and assisting as needed, simple repetitive and smaller, more incremental movements than humans are. As a result, robotic physical therapy sessions yield between 600 and 1,000 movements per session — a difference of up to 3,125%. Imagine any of your practice areas being 32 times more efficient.
Make the case in your healthcare system
The baby boomer generation — the youngest of it nearing the beginning of their highest risk of stroke — will keep physical therapy in high demand. The millions of patients requiring treatment after stroke each year doesn't even take into account the millions more who need treatment after traumatic brain injury and other causes of limited mobility. That reliable forecast makes now as good a time as any for healthcare facilities to optimize their treatment, and it's also in patients' best interest for the care to be as high-quality as possible.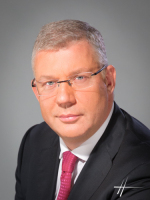 The U.S. physical therapy services industry is worth an estimated $34 billion, and that is with much of the industry still using legacy, human-only practices. If more of the physical therapy services industry implements technology leveraging robotics and the latest artificial intelligence, one might say a 3,125% increase in physical therapy efficiency can have a positive impact on patients, outcomes, revenues and the industry's value.
About the author: Dr. Eric Dusseux is chief executive officer of BIONIK Laboratories, a robotics company focused on providing rehabilitation and mobility solutions to individuals with neurological and mobility challenges.
Back to HCB News