by
Lisa Chamoff
, Contributing Reporter | October 04, 2019
From the October 2019 issue of HealthCare Business News magazine
Flat coils, such as the torso, anterior, and GP flex coils, should not be bent.
Storage caddies or shelves should be properly labeled so operators can find and replace coils to their storage locations quickly.

Numed, a well established company in business since 1975 provides a wide range of service options including time & material service, PM only contracts, full service contracts, labor only contracts & system relocation. Call 800 96 Numed for more info.

Use properly during exams
Prevent patients from touching the contacts of separable coils, such as knee coils by connecting the coil to the tabletop after the patient has been positioned, Klijn said. Always close the coil before connecting it to the system and always disconnect the coil from the system before opening the coil.
Technologists should also refer to markings to align the pins before plugging the connector into the socket, Klijn said. Insert the coil connector vertically to the table socket and never angle the connectors, as this may damage the pins.
"Pay attention to cable routing to avoid damage when the tabletop moves," Klijn said.
For multi-piece coils, such as a head coil, the anterior portion should always be removed by pulling straight up, Lucidi said.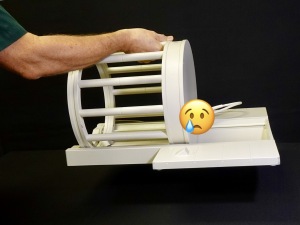 "If the anterior is removed at an angle, the fragile connections between the various sections could easily become damaged or undergo premature wear," Lucidi said.
Wes Solmos, account manager MRICoilrepair.com, notes that flex coils should be flexed in the correct direction, and should not be flexed past the OEM designed degree of flex.
Keep on top of issues
"If there are exposed wires, do not hide it with tape," Solmos said. "This needs to be addressed by our repair lab immediately. Even though there may not be any immediate electrical performance issues, exposed wires will lead to larger problems and also present a safety hazard for the patient."
Staff should also regularly inspect the coil and mating socket for any bent or broken pins, Solmos said. Coils should be regularly cleaned to avoid staining from fluids and skin oils. Inspect coils for any fluid that may have entered into electrical sections.
When cleaning a coil, only use OEM-approved cleaners and disinfectants, Lucidi said. If these are unavailable, it may be safe to clean the coil with a cloth that has been dampened in a solution of 10 percent bleach and 90 percent tap water, or 30 percent isopropyl alcohol and 70 percent tap water.