by
John R. Fischer
, Senior Reporter | December 02, 2019
Siemens Healthineers kicked off the annual meeting of the Radiological Society of North America (RSNA) this weekend with the debut of SOMATOM On.site, a mobile head CT scanner that can be used on critically ill patients in the ICU.
The portable system does away with transporting an ICU patient to the radiology department by allowing users to perform scans right at the bedside. This eliminates potential risks to patients as well as cost of transport with high staffing requirements.
"Typically, we have to bring four or five people and transport the patient to the radiology department to do the CT scan," Florian Belohlavek, director of global product marketing management for CT at Siemens Healthineers, told HCB News. "With this CT scanner, you have the chance to have a mobile head CT scanner, which is maneuverable and brings the scanning to the patient side."

For those who need to move fast and expand clinical capabilities -- and would love new equipment -- the uCT 550 Advance offers a new fully configured 80-slice CT in up to 2 weeks with routine maintenance and parts and Software Upgrades for Life™ included.

With SOMATOM On.site, patients remain in bed, connected to monitors and other devices. The technologist removes the headboard of the bed and rolls in its place the machine, which is equipped with a head holder to support the patient and ensure consistent positioning at the isocenter for optimal image quality. The telescopic design of the gantry moves it — and the source of radiation — away from the patient during the exam to reduce the scatter of radiation, while the base of the scanner stays in place. This, in effect, improves workflow and reduces incidents of motion-induced image artifacts.
Technologists of all experience levels can perform exams and receive consistent results with the use of the system's intelligent user interface, myExam Companion, which relies on patient-specific questions to optimize scan parameters. Once the exam is complete, the technologist slides the patient down in the bed from the headboard, and the CT scan is automatically sent to the PACS system in minutes. An integrated drive camera offers real-time viewing for moving the system, and with an ergonomic handle attached to the machine ensures precise, intuitive positioning.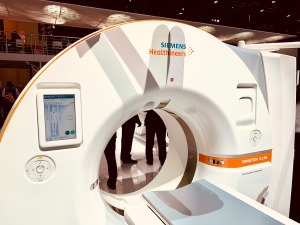 The German-based multi-tech company also showcased its premium single-source CT system, SOMATOM X.cite, which was launched last month at Zurich. The solution is the first to offer myExam Companion and is equipped with a Vectron X-ray tube for a maximum 1,200 mA High Power mode at low 70 or 80 KV stations, ensuring lower radiation dose and contrast media volumes. This allows for high image quality in a single source segment.