Researchers look at 1,500 outcomes to confirm benefits of proton over radiation therapy
by
John R. Fischer
, Senior Reporter | January 09, 2020
Rad Oncology
Proton Therapy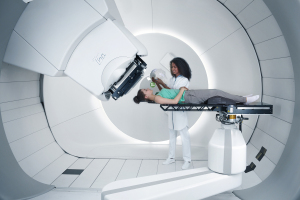 Researchers in Missouri and Pennsylvania are touting the results of a new study they believe all but confirms the hypothetical benefits of proton therapy.

Radiation oncologists at Washington University School of Medicine in St. Louis and the Perelman School of Medicine at the University of Pennsylvania have found that cancer patients who undergo PT experience similar cure rates — but with fewer serious side effects — as those who undergo conventional X-ray radiation therapy.

"The hypothesis has long been that proton therapy can reduce side effects by reducing the volume of normal tissues that receive meaningful doses of radiation, since proton therapy has no exit dose," Dr. Brian Baumann, assistant professor of radiation oncology at Washington University and adjunct assistant professor of radiation oncology at the University of Pennsylvania, told HCB News. "The value of reducing normal tissue exposure to radiation is going to be highest in patients who are being treated with concurrent chemotherapy and radiation, since the normal tissues are exposed to both chemotherapy and radiation. By reducing the amount of tissues exposed to both chemo and radiation, proton therapy was able to reduce side effects."

X-ray radiation treatments can cause severe side effects, such as difficulty swallowing, nausea, and diarrhea. These unpleasant experiences can reduce quality of life and in some cases, require hospitalization.

Researchers assessed 1,500 patients with different types of cancer at Penn Medicine in what they say is the first large review of data across several different forms of malignancies, to demonstrate the reduction in PT-induced side effects compared to those of conventional radiation. Patients received combined chemotherapy and radiation for lung, brain, head and neck, gastrointestinal and gynecological cancers. None were metastatic.

Little to no differences were found between the two in survival and cancer control at one year, (83 percent for PT patients, compared to 81 percent for X-ray RT patients), a finding which supports the assertion that PT is just as effective in treating cancer despite there being fewer side effects.

Differentiation in side effects was more distinct, with 45 of 391 PT patients (11.5 percent) experiencing a severe one within the first 90 days. This was in contrast to 301 of 1,092 in the X-ray RT group (27.6 percent) that experienced a severe side effect in the same time frame. Upon making adjustments to control differences, researchers found PT patients had a reduction of two-thirds in the relative risk of severe side effects within the first 90 days, compared to X-ray radiation patients.

In addition, patients who received proton therapy as a treatment were, on average, older and had more medical problems than those who received X-ray radiation, and yet still experienced fewer side effects. This suggests that older patients with multiple medical conditions, who are often excluded from intensive treatment trials due to frailty, may actually benefit from taking part in them.

The authors believe the findings will help others develop clinical trials that investigate if increasing proton radiation dosage helps patients more without causing as many severe side effects. They also believe the decrease in side effects will offset the higher initial costs associated with PT, a fact which had made private insurers hesitant to cover it, along with the limited amount of data on its efficiency compared to X-ray radiation.

"We have plans to investigate the cost-effectiveness of proton therapy," said Baumann.

The findings were published in December in JAMA Oncology.
You Must Be Logged In To Post A Comment
Registration is Free and Easy.
Enjoy the benefits of The World's Leading New & Used Medical Equipment Marketplace.
Register Now!