Rapid diagnosis centers cut waiting time and costs in cancer diagnosis
by
John R. Fischer
, Senior Reporter | January 17, 2020
European News
Rad Oncology
Primary Care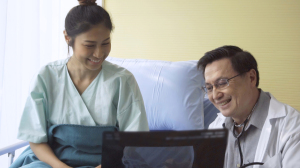 Patients who show nonspecific signs of cancer may be better off confirming their results with physicians at a rapid diagnosis center (RDC) than under the usual standard of care, according to a study out of Wales.

Researchers at Swansea Bay University and the National Health System in the U.K. found that directing these patients to RDCs cut waiting times down from 84 days to six, and cost less than the usual standard of care when the RDC was more than 80 percent filled to capacity.

"Without the RDC, they will usually visit their GP several times for the same symptoms and the GP will have a gut feeling that something may be seriously wrong," Dr. Bernadette Sewell, of the Centre of Health Economics at Swansea University and the lead author of the paper, told HCB News. "However, because the patients do not exhibit any so called "red flag" symptoms that would point to a specific type of cancer, they are not eligible to be referred to a site-specific urgent suspected cancer pathway."

As many as one in two patients may experience symptoms commonly found in a range of conditions such as weight loss, abdominal pain and fatigue, but that may in fact be nonspecific signs of cancer. GPs can try to refer a patient for outpatient appointments and diagnostic tests with long waiting lists, even expediting requests if the patient gets worse. Patients, however, will not be considered a priority, and have to wait a long time and pay heavy costs for tests and appointments not considered necessary.

Even referrals by a GP to an urgent suspected cancer pathway in Wales are often downgraded after review, with the patient referred back to the GP for management. Such patients, as a result, are often shifted around through the healthcare system, delaying diagnosis and potentially worsening symptoms, anxiety and costs to the NHS.

Already present in Denmark, the establishment of RDCs is now underway within the NHS for diagnosing patients who have vague and nonspecific symptoms that could indicate cancer but who do not meet the criteria for urgent referral.

The team completed their evaluation at the RDC in Swansea Bay University Health Board (SBUHB), which opened in June 2017 at Neath Port Talbot Hospital. Patients there are referred by their general physicians, and typically seen within a week by a multidisciplinary team for a morning session. They are examined and undergo a CT scan, and then consult a clinician and a Macmillan clinical nurse specialist about their results.

The team examined the findings of 189 patients who were directed to the RDC between June 2017 and May 2018, and simulated a larger virtual group of 1000 patients, based on real-life data. They then compared RDC patients to those who were treated with standard care, analyzing costs incurred and benefits to patients based on quality-adjusted life years, the NHS standard for combining quantity and quality of life.

You Must Be Logged In To Post A Comment
Registration is Free and Easy.
Enjoy the benefits of The World's Leading New & Used Medical Equipment Marketplace.
Register Now!