Xoft IORT used to treat metastatic brain tumor for first time in US
by
John R. Fischer
, Senior Reporter | February 14, 2020
Rad Oncology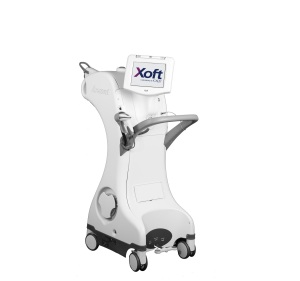 Radiation oncologists at the University of Louisville have for the first time in the U.S. treated a metastatic brain tumor with intraoperative radiation therapy supplied with the use of iCAD's Xoft Axxent Electronic Brachytherapy System.

The procedure was conducted at the university's James Graham Brown Cancer Center, and is the start of a clinical trial revolving around the use of IORT for patients with large brain metastases. Participants will be treated with neurological resection using the Xoft system, which delivers radiation to the tumor site from a balloon-shaped applicator.

"IORT involves a targeted, single-fraction of radiation therapy delivered at the time of surgical resection," Stacey Stevens, president of iCAD, told HCB News. "It uses a miniaturized X-ray source to deliver an entire course of radiation treatment directly to the tumor site, while minimizing risk of damage to healthy tissue in nearby areas of the body. Reducing the number of radiation treatments necessary after surgical resection may offer quality of life benefits for patients compared to conventional, external-beam radiotherapy (EBRT), which typically requires weeks of daily radiation treatments."

Close to 300,000 cases of brain and nervous system tumors are diagnosed annually worldwide. Treatment typically involves surgical removal, followed by weeks of radiation therapy or chemotherapy. The most common and aggressive types of malignant primary brain tumors are glioblastomas (GBMs), which have a median survival of 10-12 months.

The Xoft System is expected to help in treating a number of different types of cancer including metastatic brain tumors and GBMs. The precise nature of the system enables a full course of radiation treatment to be delivered in one day, at the time of surgery, while patients are under anesthesia. The tumor is first surgically removed, with the miniature X-ray source of the Xoft System inserted into a flexible balloon-shaped applicator. Clinicians place the applicator inside the tumor cavity, filled with saline, where it then delivers a single dose of radiation directly to the tumor bed.

The system, according to iCAD, has the potential to reduce weeks of postoperative external beam radiation therapy (EBRT) to a single fraction of radiation for appropriately selected patients with certain types of brain tumors. It is currently being studied in a number of institutions worldwide, including at the European Medical Center in Russia, in the treatment of certain brain tumors. One matched pair study of 30 patients found that those who received IORT for recurrent GBM received a single dose fraction of radiation following surgical resection and had a median overall survival of 24 months, despite not receiving chemotherapy or temozolomide following their operations. The other patients received routine postoperative adjuvant chemotherapy +/- concomitant or sequential EBRT, and had a median OS of 21 months. As of September 2019, nine patients from the IORT group are still alive. All in the conventional group passed before then.

Another piece of evidence for its efficacy is a retrospective analysis published in World Neurosurgery, which examined the repeat resection and various methods of IORT, including high-energy linear accelerators and modern, integrated brachytherapy solutions using solid and balloon applicators. IORT with balloon applicators showed particular promise, according to the findings.

"The Xoft System is already FDA-cleared, CE Marked, and licensed in a growing number of countries for the treatment of cancer anywhere in the body, including early-stage breast cancer, nonmelanoma skin cancer (NMSC) and gynecological cancers. For the treatment of early-stage breast cancer, IORT with the Xoft System allows appropriately selected patients to potentially replace four to six weeks of post-operative external beam radiation therapy (EBRT) with a single-fraction of radiation that can last as little as eight minutes. We are also exploring other new and emerging applications with the Xoft System, including prostate and rectal tumors."
You Must Be Logged In To Post A Comment
Registration is Free and Easy.
Enjoy the benefits of The World's Leading New & Used Medical Equipment Marketplace.
Register Now!