From the September 2020 issue of HealthCare Business News magazine
Enhancing clinical confidence
Applying artificial intelligence in image analysis and reporting, for automated and enhanced clinical decision support, is getting strong traction in MR and other imaging modalities as well. For MR specifically, quantitative techniques, such as MR-STAT, being developed with University Medical Center Utrecht (the Netherlands), are an important area of innovation.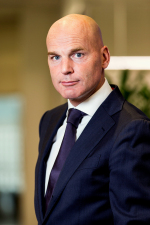 By combining smart acquisition schemes and machine-assisted reconstruction, it's possible to deliver multiple quantitative MR parameters in one fast single scan. For MR this will be a fundamental shift — from MR as images, to MR as a combination of images and data, resulting in more objective, quantified outcomes, all supporting a definitive diagnosis for each patient.

For those who need to move fast and expand clinical capabilities -- and would love new equipment -- the uCT 550 Advance offers a new fully configured 80-slice CT in up to 2 weeks with routine maintenance and parts and Software Upgrades for Life™ included.

Applying the industry's innovation power through the lens of the Quadruple Aim is guiding the future of MR, a future of improved outcomes, greater efficiency, and a better experience for both patients and staff.
About the author: Dr. Arjen Radder is the general manager for MR at Philips.
Back to HCB News