by
Lauren Dubinsky
, Senior Reporter | September 14, 2020
From the September 2020 issue of HealthCare Business News magazine
Hand-held devices are all the rage
Over the past couple of years, Kellogg has noticed that facilities are increasingly interested in deploying some sort of physical barrier coupled with a hand-held device to screen patients and individual objects.
"We see people kind of migrating away from entryway systems," he said. "It seems like users still experience a high number of false positives and suffer from alarm fatigue, which, in turn, can make those devices less effective."

For those who need to move fast and expand clinical capabilities -- and would love new equipment -- the uCT 550 Advance offers a new fully configured 80-slice CT in up to 2 weeks with routine maintenance and parts and Software Upgrades for Life™ included.

ETS-Lindgren's MRI Patient Scanner is a portable metal detector that detects both ferromagnetic and non-ferromagnetic metal objects. The scanner has three analysis modes that can detect any metals in the patient's body and their magnetic susceptibility.
In November, Kopp Development acquired Mednovus' ferromagnetic detection business, which included a hand-held detector. The product, which was rebranded as the FerrAlert Target Scanner, is generally used for non-ambulatory patients who cannot go through standard portal detectors or single-pillar detection systems.
"It's hard to screen patients that are in a wheelchair or on a gurney using standard metal detectors because they usually are metal," said Kopp.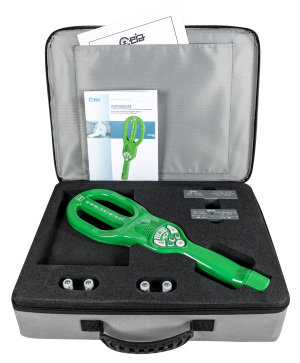 The FerrAlert Target Scanner is in use in thousands of facilities in the U.S., including the top 20 hospitals. Kopp has been working on taking the product international since December — they are starting with Italy, which recently passed legislation that highly recommends the use of a ferromagnetic detector in MR suites.
CEIA is also in the hand-held device game with two new products. Its CEIA PD240CH Handheld Patient Screener is the only handheld screening device capable of detecting all metal on one setting or only ferrous metals on another setting, according to the company.
The CEIA PD240CH-Z4 Handheld Patient Screener has that same functionality and is also MR-Conditional certified. Because of that, it can be brought into and utilized within the MR room.
What else is new?
Aegys recently introduced the second generation of its TechGate Auto warning system that controls access into the MR room. This new generation includes features of the original TechGate barrier system, but it can also be automatically deployed.