by
Mai Hiraoka
, Media Relations Manager | September 05, 2020
From the September 2020 issue of HealthCare Business News magazine
The following are just some of the products and services raising the bar for MR imaging professionals.
TechGate Auto
Aegys
TechGate Auto from Aegys is an advanced warning system for controlling access to the MRI room. Warning messaging is effectively communicated through the utilization of bright, dynamic, color changing LED barrier arms which extend across the opening to the MRI room. These barrier arms are rotated into position automatically by activation from MRI conditional remote transmitters or by the transit of anyone into or out of the room. Unlike plastic chains or retractable belts that require manual latching each and every time, the TechGate Auto self deploys ensuring effective hazard warning and access control at all times. "Caution Barriers" are now recommended by the American College of Radiology to protect the MRI room entrance when the door to the MRI room is open.

For those who need to move fast and expand clinical capabilities -- and would love new equipment -- the uCT 550 Advance offers a new fully configured 80-slice CT in up to 2 weeks with routine maintenance and parts and Software Upgrades for Life™ included.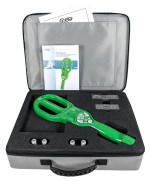 CEIA PD240CH-Z4
Aegys and CEIA USA Ferromagnetic Division
The CEIA PD240CH-Z4 is the only handheld MRI patient screening solution that can operate on an all metal mode of detection and with a push of a button switch to a ferrous only mode of detection. This dual capability addresses the projectile threat of ferrous items while also addressing the RF induced burn risk or artifact generation caused by any metal item. Additionally, the Z4 is the also the only MRI handheld MRI patient screening solution validated as MRI-Conditional to 3T. MRI Safety just got safer!
CEIA MSDH
CEIA USA Ferromagnetic Division
The MSDH is a flexible and portable ferromagnetic detector for MRI safety screening that features a one-piece, lightweight design for easy setup. The system provides fast, simple and effective analysis for the detection of ferromagnetic and magnetized objects that are considered dangerous to patients and staff in the MRI environment. The MSDH can operate as a single unit for a pass-by or rotate-by checkpoint or it can operate in a pass-through configuration with CEIA's exclusive EVO analyses, which features uniform detection sensitivity over the entire transit area. With no installation costs and built-in 26-hour battery, the system is ready for immediate use.