by
Lisa Chamoff
, Contributing Reporter | October 12, 2020
From the October 2020 issue of HealthCare Business News magazine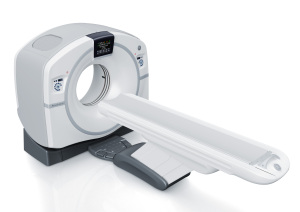 GE Healthcare
GE Healthcare responded to the COVID-19 pandemic with a unique new solution called CT in a Box, which is a traditional scanner enclosed in a container and operated via remote control. This allows the technologist to perform the scan without entering the room. The scanner can be installed in two to three days, versus two to three weeks for a full hospital installation. It's also easier to clean than a typical room and offers greater separation between patients and hospital staff.
The solution was developed in February, 2020 by the company's China engineering team, with production starting in just 15 days, with the first system fully installed in Wuhan, China. The product has since been installed in more than 20 countries around the world.

SRI is a leading Developer, Manufacturer & Supplier of Innovative Portable Imaging Equipment. We offer Lightweight, Agile, Easy to Maneuver Portable X-Ray Systems ideal for maneuvering in tight spaces. Call us at 631-244-8200

"There was a desire for COVID-19 patients' scanning to be done out of the hospital," said Saad Sirohey, general manager for global CT digital and clinical applications for GE Healthcare.
At last year's RSNA, GE Healthcare unveiled Revolution Maxima, part of the GE Revolution family of CT scanners. The Revolution Maxima includes a variety of applications and services designed to help simplify the CT workflow, including its new AI-based Auto Positioning solution. The solution, which generates a 3D model of the patient's body and utilizes a deep learning algorithm to pinpoint the center of the scan range and automatically align it with the isocenter of the bore, is designed to also help avoid dose and image noise increases due to mispositioning.
At RSNA the company also displayed its Revolution EVO Gen 3, which includes TrueFidelity CT Images, GE Healthcare's deep learning image reconstruction technology, available through the company's Smart Subscription service.
Also through the Smart Subscription service are three new applications. The first, called Intelligent Protocoling, uses information from the patient's exam order history and a facility's practice to suggest the best protocol for each patient exam. The Hepatic VCAR application utilizes deep learning to automate liver and hepatic artery segmentation. And FastStroke automatically loads and processes CT studies and sends the processed images in an email format, speeding up CT stroke evaluations. The new version of FastStroke is pending FDA clearance.