by
Lauren Dubinsky
, Senior Reporter | November 30, 2020
From the November 2020 issue of HealthCare Business News magazine
At the height of the COVID-19 pandemic, imaging volumes plummeted as elective imaging exams were deemed nonessential.
The financial impact of this was severe for both physicians and healthcare facilities at large.
A recent study published in the journal
Radiology
revealed that radiologists have experienced a nearly 40% cut in compensation in 2020. What's more, hospital margins were down 96% in the first seven months of 2020 compared to the same seven-month period in 2019, according to Kaufman Hall's National Hospital Flash Report.
Although infection rates are spiking across the country once again, healthcare facilities are better equipped to handle them. From stringent cleaning routines to social-distancing protocols, people seem to be returning to their providers for care that they'd put off, and elective imaging exams (such as cancer screenings) are largely available.

SRI is a leading Developer, Manufacturer & Supplier of Innovative Portable Imaging Equipment. We offer Lightweight, Agile, Easy to Maneuver Portable X-Ray Systems ideal for maneuvering in tight spaces. Call us at 631-244-8200

As with the pandemic itself, the impact on radiology still leaves more questions than answers. HCB News spoke with a handful of physicians and other professionals on the frontlines who candidly shared the struggles and triumphs they faced and continue to face during this unprecedented time.
The consequences of declining imaging volumes
A study published in September in Academic Radiology found that radiology practices were losing 50% to 70% of their normal imaging volume between March 8 and April 30. Mammography and nuclear medicine were affected the most with a decrease in scans of 93% and 61%, respectively.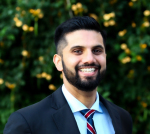 "Mammograms and nuclear medicine studies tend to be more outpatient-based than inpatient-based," said Dr. Keval Parikh, diagnostic radiology resident at University Hospitals Cleveland Medical Center/Case Western Reserve University. "Outpatient studies tend to be considered lower acuity studies that have decreased likelihood of altering clinical outcomes compared to the higher acuity ED and inpatient studies."
In March, the American College of Radiology (ACR) updated its guidelines to align with the Centers for Disease Control and Prevention (CDC) recommendations to postpone any non-urgent, outpatient imaging exams and procedures. As a result, hospitals were only taking patients that presented with suspected COVID-19 or emergency cases.