American College of Physicians Partners With DocSite to Bring PIER Content Closer to Practice and Patients
by
Barbara Kram
, Editor | January 02, 2008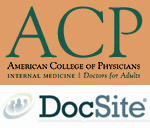 Philadelphia -- The American College of Physicians has agreed to integrate its PIER (Physicians' Information and Education Resource) content into DocSite patient registry applications and point-of-care decision support systems. The combined offering will enable physicians to review evidence-based medical content and guidelines within their normal clinical workflow.

Rapid access to the latest evidence-based guidance while in the treatment room with patients -- using PIER and DocSite's patient registries -- will enhance decision support for physicians and help improve patient education and compliance.

"We are excited to work with DocSite to provide our detailed PIER content to physicians at the point of care within their normal clinical workflow. Incorporating PIER into DocSite's registry applications provides a truly innovative tool for physicians to enhance their practice without disrupting productivity," said David Goldmann, MD, FACP, Vice President and Editor of PIER at the ACP.

ACP's PIER provides organized, reviewed, accessible evidence-based guidance on the diagnosis and treatment of disease as well as links to clinical articles and patient information. PIER guidance statements are developed by physician experts based on a rigorous review of current medical evidence. All content is then thoroughly peer-reviewed by physicians. To date, the PIER content development process has involved more than 500 physician writers and reviewers, and contains over 470 disease modules.

"Patient registries like our DocSite Registry(TM) and DocSite Enterprise(TM) provide the most effective and affordable means for physicians to affect improved quality care. Partnering with a prestigious organization like the ACP and their PIER content enables us to help our customers enhance their practices more than ever before. We are excited to begin this relationship," said John Haughton, MD, MS, DocSite CEO and founder.

The American College of Physicians (ACP) is the nation's largest medical specialty organization and second-largest physician group. Its membership includes more than 124,000 internal medicine physicians and medical students. Internists are specialists in the prevention, detection and treatment of illnesses that primarily affect adults. ACP is dedicated to the advancement of internal medicine so that its members can provide the best quality care for their patients. A nonprofit organization based in Philadelphia, its mission is to enhance the quality and effectiveness of health care by fostering excellence and professionalism in the practice of medicine.

DocSite(R) offers a portfolio of reliable, modular and upgradeable, web-based tools. They improve the quality of patient care and save clinician time. DocSite is a Clinical Integration, Connectivity and Point-of-Care Technology Company currently deployed across thousands of physicians and a few million patients. DocSite is endorsed by the Texas Medical Association, highlighted as a leader in chronic disease management systems / registries and works in partnership with IPAs, groups, health plans, hospitals and individual physicians to offer point-of-care, outcomes tracking, population warehouse and informed decision making tools. DocSite solutions reduce practice variation, save time, support patient-physician collaboration, and improve patient self-care. (www.docsite.com).