by
Lisa Chamoff
, Contributing Reporter | June 28, 2021
From the June 2021 issue of HealthCare Business News magazine
The company is also launching TruCorr, its emission-based attenuation correction based on deep learning. This capability will be available for its D-SPECT cardiac scanner, for both new and current customers.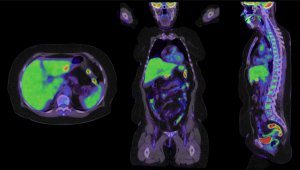 United Imaging
In September 2020, United Imaging received FDA clearance for its HYPER DLR deep learning PET image reconstruction technology. The technology, which is seamlessly integrated into the workflow, can reduce scan time by up to 70% and improve signal to noise by about 50%, said Jeffrey Bundy, chief executive officer of United Imaging Healthcare Solutions LLC.

Quest Imaging Solutions provides all major brands of surgical c-arms (new and refurbished) and carries a large inventory for purchase or rent. With over 20 years in the medical equipment business we can help you fulfill your equipment needs

The solution is available on the company's uMI 550 scanners, which began shipping a year ago, and software upgrades are available for the current install base.
"Because of this approach, our technology is not only great today, but will continue to be state-of-the-art well into the future ," Bundy said.
Back to HCB News