by
Lisa Chamoff
, Contributing Reporter | June 28, 2021
From the June 2021 issue of HealthCare Business News magazine
The battery has a longer life and the computer is now internal instead of removable, providing more security, said Martin Shirley, president of diagnostic services at Digirad.
"All of those features and benefits are part of new Ergo, but the Boost is a third of the cost," Shirley said. "It's retrofittable to the original Ergo that is more than 10 years old. We thought that was the right thing to do."

Quest Imaging Solutions provides all major brands of surgical c-arms (new and refurbished) and carries a large inventory for purchase or rent. With over 20 years in the medical equipment business we can help you fulfill your equipment needs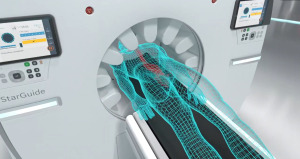 GE Healthcare
At the end of 2020, GE Healthcare introduced the Discovery MI Gen 2 PET/CT platform. The scanner is designed to be scalable to a 30-centimeter axial field of view with a potential NEMA sensitivity of 30 cps/kBq, which the company is planning to make available in the near future.
The company redesigned the detector to enable and enhance scalability and system sensitivity, said Jamie McCoy, general manager of PET at GE Healthcare.
"Someone could purchase a 15-centimeter system and be able to upgrade and scale to 30 centimeters," McCoy said. "We believe this scalability will be vital as new tracers and therapies enter the market and become a part of the standard of care."
The NEMA system sensitivity is a nearly 50% percent reduction in scan time and lower patient dose, with improved image quality.
The system features the company's new TrueFidelity CT deep learning image reconstruction to help achieve natural-looking image texture at a low dose.
Another capability of the system, called AutoIN, allows PET/CT operators to perform more tasks remotely, to reduce their exposure to radiation and to COVID-19.
Earlier this year, GE Healthcare introduced StarGuide, a new SPECT/CT system with 12 CZT Digital Focus Detectors that scan patients in 3D and are optimized for theranostic procedures, according to Erez Levy, general manager of nuclear medicine at GE Healthcare.
StarGuide's Optical Scout technology enables the detectors and table to be automatically positioned for scanning the patient at close proximity.
"This opens it up for new research applications," Levy said. "The system's Digital Focus Detectors also provide accurate quantitation and support a wide energy range capable of imaging the dual energy peaks of tracers used in theranostics — including 177Lu, which is used to diagnose and evaluate treatment response for prostate cancer."