by
John R. Fischer
, Senior Reporter | May 19, 2021
Philips unveiled today its latest innovation in precision diagnostics, its spectral detector-based Spectral CT 7500.
The intelligent system is designed to produce high quality spectral images for every patient on every scan to help improve disease characterization and reduce rescans and follow-ups, and does so at the same dose levels as conventional scans. The result is shorter scan time, more confident diagnoses and patients prescribed effective and more personalized treatment plans, according to Kees Wesdorp, chief business leader of precision diagnosis at Philips.
"This latest intelligent system helps to bring clarity to defining moments in healthcare by delivering on certainty, simplicity and reliability in every clinical area from cardiac care, to emergency radiology, diagnostic oncology, intervention and radiation oncology," he said in a statement.

Carestream Health is a leading provider of quality X-ray systems and detectors that are designed to maximize diagnostic confidence, workflow and patient satisfaction. Follow the link above to see our complete portfolio of digital radiography solutions.

Spectral CT 7500 reduces time for diagnosis by 34%, repeat scans by 25% and follow-up scans by 30%. This helps offset the need for unnecessary, suboptimal and repeat imaging, which adds up to as much as $12 billion a year.
Fully integrated into hospital workflow, the solution enables the technologist to perform spectral chest and head scans in less than one second and full upper body spectral scans in less than two seconds. Its higher sensitivity allows it to more accurately detect malignant findings and improves readings of incidental findings. In addition, it can use photons to help salvage suboptimal injection scans without the need to rescan patients, thereby shortening the time it takes to diagnose a condition.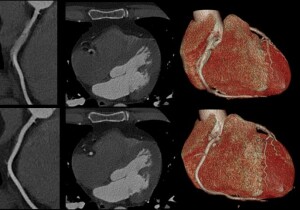 Spectral CT 7500 enables users to serve additional patient populations they could not before, from pediatric to bariatric, and for any clinical indication. This includes challenging cardiac scans with high and irregular heart rates. It also can optimize reading with rich spectral results and AI-based smart tools available in any reading environment with Spectral Magic Glass on PACS.
"Conventional CT scanners are limited and can only show us where things are located — like lesions, cysts, bleeds, fractures and more. Philips spectral detector-based systems help to characterize what the finding is, not just where it is, providing us greater confidence in diagnoses," said Dr. Finn Rasmussen, associate professor and a consultant radiologist at Aarhus University.
Back to HCB News