From the May 2022 issue of HealthCare Business News magazine
The most important way to foster our teams to embrace changes and view workflows and practices through the lens of continuous improvement is to directly involve our respective teams in the improvement process. Have your team follow a workflow idea suggested by the technologist or nurse. Has the team provided feedback by huddling at the end of the day, can any step be adjusted or fine-tuned? Try it again the next day and you will create an environment where it is allowable fail, and then to try again.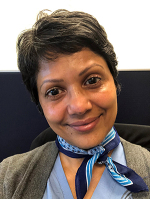 Also, lean leaders must be comfortable with change. When we are comfortable with change, we empower our teams to be comfortable with change. When creating short term goals, the small successes will empower your team and the small failures will teach your team that its acceptable to change course.
Lean leadership requires building trust within your team and we cannot build trust by edict. Lean leaders build an environment that allows teams to change course so they can continuously improve the department and experience a better set of results. When better results are achieved, teams become confident in the process and that begins with lean leadership.

Carestream Health is a leading provider of quality X-ray systems and detectors that are designed to maximize diagnostic confidence, workflow and patient satisfaction. Follow the link above to see our complete portfolio of digital radiography solutions.

Back to HCB News