In the fixed DR market, Siemens Healthineers strengthened its position, with a gain of 2.5 percentage points. For Mobile DR, GE reclaimed the top position, as Carestream experienced a difficult year after a very strong 2020.
For the fluoroscopy market, Siemens Healthineers led, with a very strong 2021, gaining further share. Shimadzu follows with strong sales in its domestic market.

Carestream Health is a leading provider of quality X-ray systems and detectors that are designed to maximize diagnostic confidence, workflow and patient satisfaction. Follow the link above to see our complete portfolio of digital radiography solutions.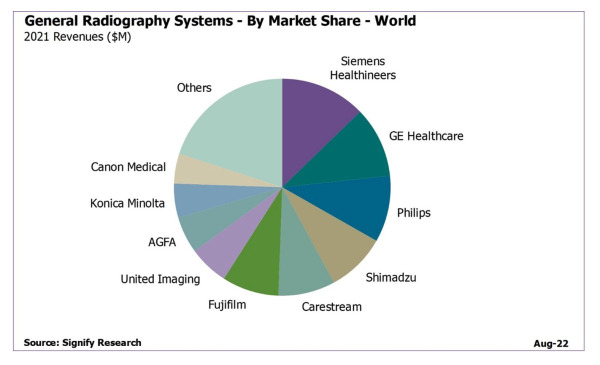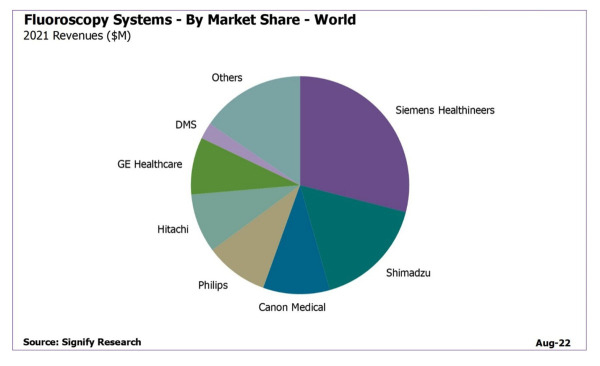 Outlook
The Fixed DR market will continue to recover. Budgets will continue to return for fixed room, and projects previously postponed will be able to restart. Additionally, in some countries like the U.S., replacement cycles will stimulate further growth toward the end of the forecast. Globally, ceiling-suspended fixed-room product revenue will grow at a faster pace (5% CAGR 2021-26) than floor-mounted (4% CAGR), especially in more developed markets, which increasingly desires high-end features often found in ceiling-mounted solutions. Low-end system demand will continue to be driven by cost-sensitive markets such as Latin America, Africa, the Middle East and parts of Asia. However, the price of digital solutions will need to significantly reduce to be an attainable option for these regions. Until the price falls sufficiently, analog, CR and retrofit will continue to play an important role.
Fluoroscopy systems will also see limited growth but will also come under increasing pressure from other modalities like CT and endoscopy. At the end of the forecast, low single-digit annual revenue growth is predicted. In many countries and regions, the demand for fluoroscopy will come predominantly from multipurpose systems; as fewer procedures are performed on the systems, budget holders will want to minimise downtime by enabling other general radiography imaging.
About the authors: Bhvita Jani and Graham Cooke are market analysts with Signify Research, an independent supplier of market intelligence and consultancy to the global healthcare technology industry. Signify's major coverage areas are Healthcare IT, Medical Imaging and Digital Health. Its clients include technology vendors, healthcare providers and payers, management consultants and investors.
Back to HCB News