Philips and MIT refine eICU data set with COVID-19 data for AI development in critical care
by
John R. Fischer
, Senior Reporter | April 21, 2023
Artificial Intelligence
Emergency Medicine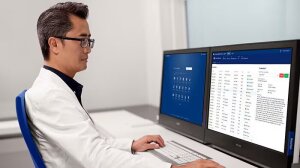 Philips and the Institute for Medical Engineering and Science at the Massachusetts Institute of Technology are providing researchers worldwide with access to their updated critical care data set, which includes de-identified data from 200,000 critical care patients, including those diagnosed with COVID-19, allowing them to develop advanced new algorithms and report new insights in critical care.

The updated eICU Collaborative Research Database lists vital signs, pharmacy and medication orders, laboratory results, diagnoses, and novel severity of illness scores as well as insights on patient treatments, comorbidities, readmissions, and clinical outcomes.

The companies released the original data set, which contains critical care data from over 200 hospitals across the U.S., in 2016 to help providers address real-world challenges associated with deploying algorithms and models, which often are not clearly observable in single-center data sets.

Philips and IMES initiated an expansion after seeing the unique challenges that eICU and critical care teams faced during the pandemic, adding patient information from 2020 and 2021 to include COVID-19 information.

"This is how we can enhance patient care and improve clinical outcomes: liberating and connecting data across systems and applications with integrated devices, systems and informatics, which can inform research with patient insights that can help clinicians make the right decision at the right time for their patients," said Shiv Gopalkrishnan, general manager of EMR and care management at Philips, in a statement.

Philips shares its data sets with credentialed researchers who use them to refine AI solutions, and the database will also be available to those who are credentialed, take human subjects training, and sign a data use agreement.

The Laboratory of Computation Physiology within IMES will continue to be the academic research hub for the initiative, providing and maintaining access and educating researchers on the database, as well as offering the platform for collaborations.

"This updated database is a vital resource for education, including in many courses at institutions like Harvard, MIT and Stanford; and training, as well as low-resource institutions," said Jesse Raffa, research scientist in the Lab for Computational Physiology.
You Must Be Logged In To Post A Comment
Registration is Free and Easy.
Enjoy the benefits of The World's Leading New & Used Medical Equipment Marketplace.
Register Now!