Increasing Medicaid reimbursement key to preventing denial of care
by
John R. Fischer
, Senior Reporter | June 14, 2023
Insurance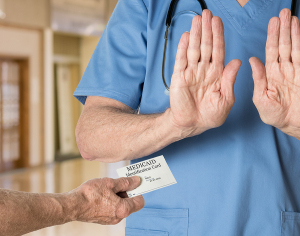 While bridging some gaps in care access for low-income individuals, Medicaid expansion under the Affordable Care Act could be more successful if not for declining reimbursement rates, which have made providers less inclined to accept enrollees, compared to patients with Medicare or private insurance.

In a new study, the American College of Radiology and Harvey L. Neiman Health Policy Institute analyzed Medicaid reimbursement rates, which vary by state, for 10 common radiological procedures in 2012 and 2022. Their findings show that in some cases Medicaid reimbursement dropped from being nearly on point with Medicare rates to less than half.

According to the Medicaid and CHIP Payment and Access Commission (MACPAC), 96% of providers accepted new privately insured patients in 2017, versus 88% who accepted new Medicare patients, and 74%, new Medicaid patients. In some specialty groups, as few as 70% accepted new Medicaid patients.

Medicaid reimbursement rates were even deficient among states with the highest rates of Medicaid enrollment, which means more than 25% of the state population was using the service. These states include Alaska, California, New Mexico, Arkansas, Louisiana, Kentucky, West Virginia, New York, Vermont and Washington, D.C.

While unable to provide specific solutions, the researchers say the problem is rooted in a focus on increasing access to insurance rather than care. They argue that federal and state governments need to acknowledge and address this together, along with disparities in different states.

"When our governmental relations department approaches state legislators and informs them that Medicaid radiology reimbursement is, in many instances, much lower than that of Medicare, they are often asked by the legislators, "But is there data to show that?" This study was an effort to demonstrate those anecdotal observations with the data," Casey Pelzl, biostatistician at Harvey L. Neiman Health Policy Institute and Eugenia Brandt, senior government affairs director of ACR Government Relations, told HCB News.

In a separate 2019 study, The Impacts of Physician Payments on Patient Access, Use, and Health, researchers Diane Alexander, of the University of Pennsylvania and Molly Schnell, of Northwestern University, found that every $10 increase in Medicaid reimbursement per visit increased the likelihood of a patient seeing a doctor in the past two weeks by 1.4%, and the probability that their health was very good or excellent by 1.1%.

They suggest changing financial incentives for providers, saying that, "closing the gap between private insurance and Medicaid — a $45 increase in Medicaid payments for the median state — would close over two-thirds of disparities in access for adults and would eliminate such disparities among children.

They also say obtaining equitable rates and in turn, access for patients, requires addressing payment delays, high denial rates, and complex patient needs, as well as capacity constraints within the Medicaid system.

The findings for the ACR and Harvey L. Neiman Health Policy Institute were published in ACR's "Bulletin".

Alexander and Schnell's study was published by the National Bureau of Economic Research.
You Must Be Logged In To Post A Comment
Registration is Free and Easy.
Enjoy the benefits of The World's Leading New & Used Medical Equipment Marketplace.
Register Now!