Ochsner Health, MD Anderson form Ochsner MD Anderson Cancer Center
by
John R. Fischer
, Senior Reporter | June 28, 2023
Rad Oncology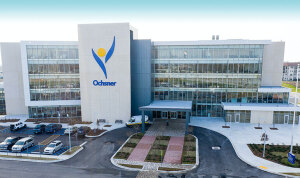 Through a new partnership with the University of Texas MD Anderson Cancer Center in Houston, Ochsner Health will become the first healthcare provider in Louisiana with a fully integrated cancer program that abides by care and treatment protocols issued by MD Anderson, home to one of the largest clinical trial programs in the world with over 1,600 studies on cancer care.

The two organizations have created Ochsner MD Anderson Cancer Center, which will offer medical oncology, surgery, and radiation treatment to patients, with providers and staff able to consult MD Anderson's clinical leaders and practice standards to guide care choices.

This will make Ochsner, which treats over 40,000 patients annually, one of MD Anderson's seven partners in the U.S. and the only one in Louisiana.

"Each member of our select team of cancer physicians has been certified by MD Anderson to clinically practice as part of the co-branded Ochsner MD Anderson cancer program, and appointed physicians will become adjunct members of MD Anderson faculty," said Dr. Brian Moore, medical director of Ochsner MD Anderson Cancer Center, in a statement.

Ochsner MD Anderson's cancer team will consist of doctors, clinicians, and support specialists, including nutritionists, nurse navigators, social workers, physical therapists, acupuncturists, and others. As the only Phase I clinical trial program in Louisiana, it will provide eligible patients with access to select studies.

For the first phase, Ochsner MD Anderson facilities will be in New Orleans, Baton Rouge, and Covington, and include the Gayle and Tom Benson Cancer Center at Ochsner Medical Center; Ochsner Medical Center – Kenner; Ochsner Medical Center – West Bank Campus; Ochsner Baptist – A Campus of Ochsner Medical Center; Ochsner Cancer Center – Baton Rouge; Ochsner Medical Complex – The Grove; and St. Tammany Cancer Center – A Campus of Ochsner Medical Center.

Ochsner and MD Anderson will certify additional sites.

Cancer patients at all Ochsner facilities will continue to have access to the largest clinical trials network in Louisiana and Mississippi.
You Must Be Logged In To Post A Comment
Registration is Free and Easy.
Enjoy the benefits of The World's Leading New & Used Medical Equipment Marketplace.
Register Now!