Kaiser Permanente to pay $49 million over improper disposal of medical records and hazardous, medical waste
by
John R. Fischer
, Senior Reporter | September 14, 2023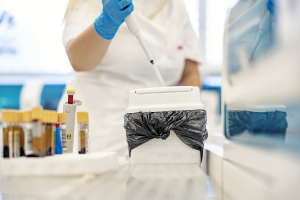 Kaiser Permanente has agreed to pay $49 million and adopt new measures for environmental compliance and appropriate disposal after it was revealed that staff members at 16 of its facilities threw away over 10,000 paper medical records and hundreds of hazardous and medical waste items into unsecured dumpsters.

Kaiser is the largest healthcare provider in California, with over 700 facilities statewide, and cares for approximately 8.8 million Californians and individuals seeking emergency care.

In 2015, while conducting inspections, the California district attorney's office found records with information on over 7,700 patients in the dumpsters, along with aerosols, cleansers, sanitizers, batteries, electronic waste, syringes, medical tubing with body fluids, and pharmaceuticals. The dumpsters were scheduled to be unloaded at publicly accessible landfills.

As a result, the DA and the California Department of Justice launched a statewide review of the healthcare system's disposal practices, leading Kaiser to hire a third-party consultant, conduct over 1,100 trash audits at its facilities, and modify its protocols for handling, storing, and disposing of waste.

The violations were committed by staff members of Kaiser Foundation Health Plan and Kaiser Foundation Hospitals, and allegedly go against California's Hazardous Waste Control Law, Medical Waste Management Act, Confidentiality of Medical Information Act, Customer Records Law, and Unfair Competition Law, as well as federal HIPAA law.

In a statement, Kaiser said it was made aware of its improper disposals six years ago and acknowledged full responsibility. It said that it has since established mandatory annual training for staff; introduced specialized equipment, instructions, and receptacles for properly disposing of all types of waste; and adopted more eco-friendly products.

"We dedicated many hours to identifying and closing gaps to strengthen our regulated waste disposal program and are confident in our ability not only to meet the monitoring and reporting requirements of this settlement but to comply with the numerous requirements that apply to the different kinds of waste that result from caring for millions of Californians," said the company.

As part of the settlement, the company will spend over $47 million in civil penalties, attorneys' fees and costs, and supplemental environmental projects, primarily its environmental prosecutor training. It will also pay $1.75 million in civil penalties if it fails within five years to implement $3.5 million worth of environmental compliance standards at its California facilities.

Additionally, Kaiser must retain an independent third-party auditor approved by the Attorney General's Office and the district attorneys who will perform at least 520 trash compactor audits at its facilities on proper disposal compliance. It also must conduct at least 40 programmatic field audits on Kaiser's compliance annually for five years.

Kaiser has previously been investigated for improper disposal compliance, including in 2014 when it did not notify employees immediately of an unencrypted USB drive found at a Santa Cruz thrift shop that contained over 20,000 employee records.

"As a healthcare provider, Kaiser should know that it has specific legal obligations to properly dispose of medical waste and safeguard patients' medical information. I am pleased that Kaiser has been cooperative with my office and the district attorneys' offices, and that it took immediate action to address the alleged violations," said Attorney General Rob Bonta.
You Must Be Logged In To Post A Comment
Registration is Free and Easy.
Enjoy the benefits of The World's Leading New & Used Medical Equipment Marketplace.
Register Now!