Memorial Healthcare System to open $125 million Memorial Cancer Institute in 2024
by
John R. Fischer
, Senior Reporter | November 14, 2023
Rad Oncology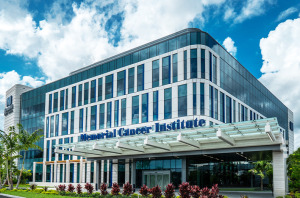 Memorial Healthcare System has completed construction of its $125 million Memorial Cancer Institute on the campus of Memorial Hospital West, in South Florida.

The former Petco and Toys "R" Us site, which Memorial acquired in 2018, will be staffed with 250 cancer physicians and surgeons, experienced oncology nurses, pharmacists, lab staff, clinical trialists, and administrative and support members. It will provide screening and diagnostic testing, chemotherapy, and cellular therapies, surgical options, and integrative medicine services to patients.

The four-story, 125,000-square-foot facility will also offer a range of advanced radiation treatments, including:

CyberKnife S7 to provide stereotactic radiation to various areas of the body, such as the brain and lungs, avoiding surgery and allowing clinicians to account for patient movement in real time.
Halcyon Radiation Therapy System to accelerate radiation treatments up to four times faster and reduce procedure times, while still producing high-quality imaging for locating tumors.
Varian TrueBeam, which uses respiratory gating to account for a patient's breathing during radiotherapy, which is particularly important in breast and lung cancers, and for preserving healthy tissues from unnecessary radiation exposure.
Elekta Flexitron system, for high-dose radiation brachytherapy

The site increases Memorial Healthcare System's exam room count from 29 to 63 and private infusion suites from 38 to 51, and includes a dedicated breast cancer center and Moffitt Malignant Hematology and Cellular Therapy at Memorial, an initiative with Moffitt Cancer Center for treating leukemia, lymphoma, and myeloma through a Blood and Marrow Transplant Cellular Therapy Program. It also has a Clean Room suite that expands Memorial's oncology infusion pharmacy.

With the new facility and its offerings, Memorial plans to expand existing and form new partnerships with other academic facilities, including its research alliance with Florida Atlantic University.

It also will increase clinical trials for developing new treatments and conducting research, including around the use of Chimeric Antigen Receptor T cell therapy (CAR-T) immunotherapy to treat solid tumor cancers of the head and neck, lungs, and skin that are resistant to chemotherapy or have metastasized to other parts of the body.

Patients will additionally have access to oncology support services for emotional, psychological, and logistical effects of care through the Patient and Family Resource Center, which will also offer nutritional guidance, pain management services, support groups, palliative care, survivorship programs, patient and family navigation, social work, spiritual care, and many other resources.

The Memorial Foundation, the provider's philanthropic initiative, will fund facility and equipment enhancements, oncology support services, medical education programs, and cancer research.

Patient admission is expected to begin in mid-January 2024.
You Must Be Logged In To Post A Comment
Registration is Free and Easy.
Enjoy the benefits of The World's Leading New & Used Medical Equipment Marketplace.
Register Now!