Thoratec's HeartMate II -- a Promising Technology
by
Lynn Shapiro
, Writer | February 11, 2009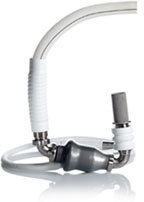 DOTmed News invited three Wall Street analysts to give us their top picks in the cardiovascular medtech sector. Our experts: Alastair MacKay of Garp Research, Joshua Zable of Natixis Bleichroder and Erik Schneider of UBS--each have their favorite stocks in this fast-growing arena.

However, the only consensus name to emerge among the three men was Thoratec Corporation (THOR-NASDAQ-$25.83-Market Cap $1.6 billion), a company based in Pleasanton, CA.

All three analysts believe that if THOR's HeartMate II left-ventricular assist device (LVAD) is approved as expected for end-stage heart failure--or destination therapy (DT) as the industry calls it--this indication could drive impressive growth for the company over the long-term.

A continuous flow device, the HeartMate II can pump up to 10 liters of blood per minute and is designed to provide long-term cardiac support of about five years. The device is implanted alongside a patient's native heart.

Stock Already High

While all three analysts believe THOR's fundamentals are impressive, both MacKay and Zable have downgraded the stock from "buy" to "hold," based on its already rich valuation. Both analysts say that favorable data announced in December on the company's HeartMate II trial sent the stock up nearly 20 percent to $29, so there isn't much room for upside. Schneider, on the other hand, believes the stock could hit $38 and is maintaining a "buy" on the shares.

THOR is on a roll, everyone agrees. Interim analysis of data from its HeartMate trial DT was so good that FDA has allowed the company to file for clearance in May, rather than next year as originally planned. The company says it will launch the $85,000 heart pump next year.

Trial results showed that patients implanted with the device achieved statistically superior outcomes versus those in the control group who were implanted with the company's older and less durable HeartMate XVE. Based on this evidence, the control group was abandoned, MacKay tells DOTmed News.

The DT study protocol called for an interim analysis to test for overwhelming superiority when 67 percent of the first 200 randomized patients had reached two-years of follow up. The primary endpoint for the trial assessed in this analysis includes patients being alive and free of stroke and the need of device replacement at two years, MacKay says.

In another coup, HeartMate II won clearance for bridge-to-transplant (BT) therapy on April 24, 2008. Back in 2002, FDA approved the company's older HeartMate XVE device for those patients waiting for a transplant. But as FDA was quick to realize, THOR's HeartMate II is clearly superior for this indication, as well.