China's Healthcare Reform: A Bonanza for Medtech Manufacturers
by
Lynn Shapiro
, Writer | May 20, 2009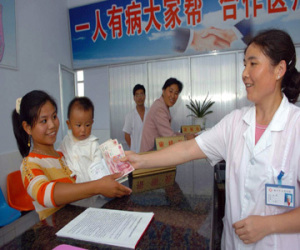 U.S. and European medical equipment makers doing business in China say that the government's $120 billion plan to resurrect its health care system--largely dismantled in the late 1970s and 1980s--will translate to business opportunities.

While urban hospitals in Beijing and Shanghai, catering to a growing middle class and to party leaders, use the latest imaging equipment (replaced every two or three years), farmers in rural areas of the country are relying on equipment made 30 years ago. So, while thousands of urban hospitals will be upgraded under the government's plan, a big part of the revamp will go into rebuilding the rural health care infrastructure. (Seventy percent of China's 1.3 billion people are farmers.)

Speaking to DOTmed News about the burst of medtech activity happening inside China, Hong Kosalos, president of Tradeology USA, a company which represents U.S. firms looking for factories in China, or needing to patent their devices there, says the government is trying "to make the farmers happy" because it fears their unrest over the lack of available and affordable health care will lead to widespread protests.

To appease farmers, China has pledged to build thousands of rural hospitals and clinics over the next three years and to expand medical insurance. Part of the $120 billion initial phase of the government's stimulus package will be a construction boom that will give every village a clinic and every county at least one hospital by 2011.

Meanwhile, rural citizens will benefit from an innovation that allows the best urban doctors to examine rural patients remotely, Kosalos says. She says two or three software companies, employing the best doctors in the country, have developed telemedicine programs to examine patients on a website and then hold conference calls with patients.

"This is a great option for farmers who live in the mountains and have no reliable means of transportation to the good city hospitals," she says.

Multinationals Step Up

Moving to get a piece of the government's $120 billion health care stimulus program, announced in January, Medtronic formed a joint venture with China's Shandong Weigao Group Medical Polymer Co., to make orthopedic devices, including Medtronic's spine products and Weigao's spine, joint and trauma devices, says Karl Zhong, in an article for the Chinese Pharmaceuticals & Health Technologies Newswire, Interfax.

And GE China teamed up with Shinva Medical Instrument Co., starting Shinva GE Medical Systems, to make X-ray machines and auxiliary equipment and parts for Shinva and GE China's low- and mid-range X-ray systems for rural hospitals. Shinva will invest $5.1 million in the project, amounting to a 51 percent stake in the venture, Zhong reports.