by
A.F. Hutchinson
, Copywriter | May 03, 2010
This report originally appeared in the April 2010 issue of DOTmed Business News
After a decade of steady growth, the hospital construction sector is feeling the recession's pinch. Compared to the chokehold that the downturn continues to have on commercial construction, its grip on the health care sector, while tight, isn't nearly as painful.
"Generally, the hospital market held up very well through the recession. That's started to weaken a bit in recent months, and will probably continue for a good part of this year," says Reed Construction Data chief economist Jim Haughey, Ph.D. "But what we've seen is nothing on the scale of what happened to residential construction a couple of years ago and what's happening now to commercial construction."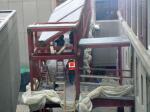 According to the Associated General Contractors of America, commercial construction spending fell by $5.5 billion in January to its lowest point since June, 2003.
Spending on new hospital construction rose slightly from $6.8 billion in Q4 2008 to $6.9 billion in the same period of 2009. As Haughey sees it, while we're not likely to savor another $7 billion quarter for many years to come, hospital construction will stay on a modest upward track with single-digit increases over the next few years. "Hospital construction is doing much better than the rest of construction in large part because they generate their own capital from patient fees and insurance company payments. They don't have the credit problems that everybody else does."
Design value
While it may be faring better than its counterparts, the hospital sector is light-years past the "if you build it they will come" days of the mid-oughts. C-level execs, driven to keep costs under control while finding innovations to attract new patients, are scrutinizing every spend and looking for meaningful ways to calculate ROI on the projects they undertake.
The mission of the Concord, Calif.-based Center for Health Design is "to transform healthcare environments for a healthier, safer world through design research, education and advocacy." Sara Marberry, the Center's executive vice president and COO, makes it clear that establishing the business case for forward-thinking design and construction is more crucial now than ever before.