Health care added 31K jobs last month
by
Brendon Nafziger
, DOTmed News Associate Editor | November 02, 2012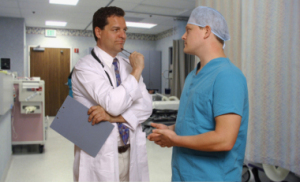 The U.S. health care sector added 31,000 jobs last month, with ambulatory care services accounting for the bulk of employment gains in the sector, according to the eagerly awaited jobs report released Friday by the U.S. Bureau of Labor Statistics.

Pundits had been waiting for the report as it's to be the last issued before a tight presidential election on Tuesday.

The October report found the unemployment rate hovering at 7.9 percent, about one-tenth of one percent higher than last month's figures, which were low enough to prompt conspiracy theories in some parts of the Twitter-o-sphere.

About 12 million people remain unemployed, 8.3 million were working part-time because they couldn't get a full-time job, and 2.4 million were jobless and wanting work, but had not searched for a job in the past month. Of these, a bit under a million were too discouraged to look for work, the BLS said.

Still, total non-farm payroll employment rose 171,000 in October. Professional and business services accounted for the plurality of gains, with 51,000 new jobs, but health care was in second place. (Note that unemployment figures are collected separately from the new jobs numbers, and unemployment can go up as more people go back to looking for work, which is why unemployment had a slight uptick while new jobs were also being added, according to a jobs report breakdown from ABC News.)

In health care, ambulatory services had the strongest showing, adding 25,000 jobs. Doctors' offices gained 11,000 jobs and hospitals 6,000 jobs. Outpatient centers added 2,000 to the payroll, while home health care services added 8,000.

But nursing homes and residential care facilities lost 600,000 jobs since September, the BLS said.

Last October, the health care sector added 24,000 jobs from the previous month.

Year-to-date health care employment rose 296,000, the BLS said. All told, 14.5 million people work in health care in the U.S.

The report was not affected by Hurricane Sandy as the data were collected before the storm hit, the BLS said. The agency said in an FAQ that severe weather events are more likely to affect average weekly hours worked than unemployment.

You Must Be Logged In To Post A Comment
Registration is Free and Easy.
Enjoy the benefits of The World's Leading New & Used Medical Equipment Marketplace.
Register Now!