by
Nancy Ryerson
, Staff Writer | January 11, 2013
From the January 2013 issue of HealthCare Business News magazine
One option is processing medical red bag waste onsite. Cleveland Clinic's main campus, for example, uses machines that subject the material to high temperature, pressure, moisture and agitation to sterilize the material.
"On site technology significantly reduces the carbon footprint since there are no trucks hauling medical waste in and out of the community," says Bill Norton, owner of Red Bag Solutions, which manufactures on-site medical waste processors. Using steam or ozone, the equipment sterilizes medical waste and reduces its volume by 90 percent, leaving waste that can be thrown away as ordinary trash.
Another way to cut back on red bag waste is to ensure that the trash in question is in the right place. According to the EPA, 85 percent of an average hospital's waste is nonhazardous but much of it is often mistakenly put in red bag containers intended for medical waste. "The biggest issues we see typically fall into three areas: waste segregation, non-compliance and a lack of recycling," says Kevin Pollack, director of sustainability at Stericycle, a national medical waste management company. "Waste segregation is typically over-classifying solid waste by putting it in the medical waste container; however, we also see improper waste segregation with regards to pharmaceutical waste or pathological waste, which leads to non-compliance."
To encourage proper waste stream management, Inova Health hosts a competition called the "Oscar Award" between its hospitals.
"We audit two randomly selected medical waste containers and whichever unit has the most compliant waste for that month, they win the Oscar – Oscar the Grouch," says Wadhwa. "It's a fun way to get people engaged."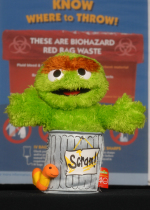 Inova also has a creative way of dealing with blue wrap, a sterile packaging that makes up 20 percent of the waste generated in surgical services. It is often discarded in the red bag waste stream, even though it's not in contact with patients and therefore, not contaminated. In 2011 and 2012, Inova partnered with DC Fashion Week to host Blue Wrap Fashion Design contests open to Inova employees and competitors from around the country. The shows spotlighted the most creatively chic ways to transform the material.
"The purpose is really to propagate what we're doing in our community," says Wadhwa. Of course, the majority of the system's blue wrap does not go towards snazzy outfits; it's recycled.