by
Nancy Ryerson
, Staff Writer | January 11, 2013
From the January 2013 issue of HealthCare Business News magazine
From using machines that sterilize toxic medical waste, turning it into an innocuous pulp, to dressing fashion models in gowns made of blue wrap, there have never been more innovative ways for a hospital to shrink its environmental footprint.
There have also never been more reasons to make the change. A recent study in the journal Health Affairs estimated that six climate change-related events, including floods, hurricanes and drought between 2000 and 2009 cost about $14 billion in health care expenses and lives lost. More and more health care facilities are looking at environmental sustainability as the next logical response to the oath "first, do no harm."
"My personal philosophy is that the way we look at the environment is shifting," says Seema Wadhwa, director of sustainability at Inova Health System, one of the founding members of the Healthier Hospitals Initiative, which seeks to make the health care sector more environmentally responsible. "Historically, it's been about the impact that we're having on the planet. Now, it's about the impact the environment is having on our health."
If "going green" seems daunting, it helps to use vendors who are on the same sustainable page, experts say. "We know hospitals can't do it by themselves," says Janet Brown of Practice Greenhealth, a nonprofit committed to planet-friendly health care. "They require business partners, and we would like them to be seen as that, as partners rather than just vendors."
Practice Greenhealth helps facilities connect with vendors that practice what they preach. The organization as well as some of its award-winning hospitals and trusted suppliers spoke with DOTmed Business News about creative ways to make small but influential improvements for patients and the planet.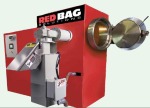 Trash talk
Because there is often so much room for improvement, waste stream management can be a great place for hospitals to start their sustainable programs, Practice Greenhealth suggests. Nationally, hospitals generate around 6,600 pounds of waste per day and 5.9 million tons of waste annually. Much of that waste ends up in a landfill, where it produces methane, or in an incinerator where it emits greenhouse gases, dioxins, HCl gas and other toxic substances. Currently, over 90 percent of potentially infectious medical waste is incinerated, according to the Environmental Protection Agency, but alternative waste management methods are gaining ground.