by
Nancy Ryerson
, Staff Writer | January 11, 2013
From the January 2013 issue of HealthCare Business News magazine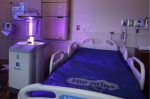 Cutting back on chemicals
Reducing chemicals can also help patient health and the environment, as many are linked to health risks such as asthma and neurological disabilities in children. Potentially toxic chemicals can be found throughout a hospital, in places as unsuspecting as patient mattresses and operating room table pads. Those surfaces often contain dangerous chemicals, such as brominated flame retardants, which can leach out of the materials and accumulate in the body.
"In a hospital environment, mattresses and other surfaces are the number one element that patients are in continual contact with during their entire length of stay," says Rick Conely, sustainability expert and capital acquisition manager at Sizewise, a company that manufactures mattresses, operating pads and stretcher pads.
LDI Solutions, a manufacturer of plastic and textile products, has eliminated the use of PVC from its products because of the emissions they release leached in a landfill. PVC contains DEHP, a phthalate plasticizer linked with reproductive birth defects.
Chemicals used when disinfecting can also be dangerous, but cleanup can be one of the toughest processes to attempt without them.
"When you think about a green disinfectant, it's almost a contradiction of terms," says Mark Stibich, founder and chief scientific officer of Xenex. The company's device produces germicidal ultraviolet light, which is able to penetrate through a cell wall, bacterial spore or virus and damage its DNA. Unlike previously used techniques, the method does not use mercury, and it allows a facility to cut back on its use of disposable wipes and mops, Stibich says.
As for cleaning products, Practice Greenhealth recommends choosing ones that have been "certified" environmentally preferable by a third party. GreenSeal and EcoLogo are the most prominent cleaning product certification programs.
How to make changes that stick
Even though many hospitals have implemented sustainable improvements, there is, of course, more work to be done.
"There is never a shortage of sustainability ideas, but there are always a limited number of resources to help drive the ideas to fruition," says Pollack of Stericycle. "Based on these challenges, the interest in sustainability is widespread, but there is still a limited, albeit growing, number of hospitals who are successfully implementing sustainability programs into their operations."