by
Brendon Nafziger
, DOTmed News Associate Editor | May 30, 2013
From the May 2013 issue of HealthCare Business News magazine
Over my entire inventory of medical equipment, there's equipment that's lasting longer but there's also equipment that requires less service. I see us recognizing that, and shifting the time we spend away from doing bench repair, replacing electronic components or power supplies that just don't fail as often anymore.
We're prioritizing and working more in the total cost of ownership. Five to 10 years ago, we were doing 30 percent benchwork, but that number has dropped to 10 to 15 percent.
DMBN: In his 2007 article "Dinosaurs of the 21st Century," Patrick Lynch warned that many biomeds risked becoming redundant if they failed to develop IT skills and were unable to cope with increasingly networked devices. Six years later, what are the skills biomeds need to stay relevant to their employers?

Greg Mika:
You definitely need to know IT related stuff and networking. I encourage my technicians to take classes, because if you don't know anything about it, you're going to be completely left in the dust.
Everything is IP addressed and connected, and if it's not connected to the hospital network it has its own network. Our sterilizers and washers and disinfectors have an IP address and are tracked via software systems and connected via the network. Sometimes what would have been a repair might just be a network issue or connective issue, and you never dealt with that five or 10 years ago.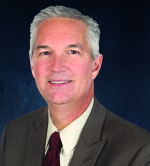 Dale Hockel, senior vice president of operations at TriMedx:
Ideally, what you're doing with your current staff or those you hire, you want to get ahead of the learning curve, whether that's clinical engineers or IT professionals. You look for folks that have an understanding of networks, or network communications and systems, including hardware and software and protocols.
I always chuckle when someone says, "Here's my start and stop point." Historically, we said the IT group took care of everything behind the wall in the patient's room, and everything within that wall is what the clinical engineer takes care of, and that's what is being blurred. Say, there's a virus on a device. So I go in there as the BMET, I reload the software, I get rid of the virus, I put it back on the network, and bam, I got my virus again. It's never a cookie cutter problem. You've got to have discussion and integration [with IT].