Use of breast MRI increased, says study
by
Loren Bonner
, DOTmed News Online Editor | November 20, 2013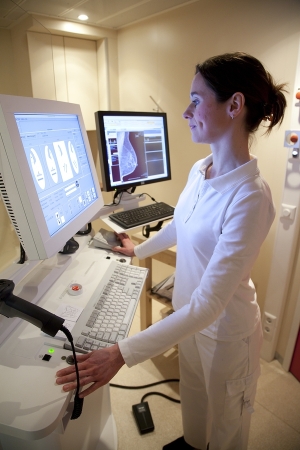 A new study presented in JAMA Internal Medicine this week found that the use of MRI to screen women who had a higher risk for breast cancer increased between 2005 and 2009.

The study, supported by the National Cancer Institute, draws on patterns of breast MRI in U.S. community practice over the five-year period with data collected from five national Breast Cancer Surveillance Consortium registries. In that time frame, breast MRI exams reported to the registries rose from 863 to 2,146. The proportion of women screened with a high lifetime risk score for breast cancer also increased from 9 percent to 29 percent in that period.

"In those women who were screened, a higher proportion over time were women who were at a high lifetime risk," Karen Wernli, assistant investigator at Group Health Research Institute in Seattle and part of the research team, told DOTmed News.

Guidelines from the American Cancer Society (ACS) indicate that breast MRI should be used to screen asymptomatic women at high-risk for breast cancer if they are known carriers of the BRCA gene mutation; first-degree relatives of a known BRCA gene mutation carrier who are themselves untested; or women with more than a 20 percent lifetime risk of breast cancer, according to the study background.

The women in the study cohort tended to be younger than 50, white, nulliparous (never had a baby), and had a personal or family history of breast cancer as well as extremely dense breast tissue. In addition, MRI breast screening was most commonly used on these women for diagnostic evaluation of a non-MRI finding.

While the use of breast MRI may have increased over the past decade, more recent findings show it has stabilized in the past two years.

According to a Harvard Medical School study, screening and surveillance with breast MRI accounted for 57.6 percent of MRI use by 2011. In 2011, use declined and then stabilized.

While authors of the Harvard study note that breast MRI is said to be more sensitive than mammography in detecting breast cancer, there's little evidence proving it reduces deaths. This, paired with its high cost, limits recommendations of its use, they concluded.
You Must Be Logged In To Post A Comment
Registration is Free and Easy.
Enjoy the benefits of The World's Leading New & Used Medical Equipment Marketplace.
Register Now!