by
Sean Ruck
, Contributing Editor | December 09, 2013
From the December 2013 issue of HealthCare Business News magazine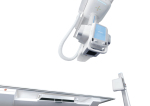 XGEO GC80 Digital Radiology System
Samsung Electronics America Inc. announced today the U.S. commercial release of its first Digital Radiology system, the Samsung XGEO GC80, which received 510(k) approval earlier this year. The system utilizes a Samsung TFT-based flat panel detector. It incorporates proprietary Adaptive Local Contrast Stretching (ALCOS) software with automatic, customizable post-image processing.
Integrating Samsung's robotics technology, the soft handling function allows users to reposition the tube head unit with an easy movement for improved workflow and reduced fatigue. With dedicated "auto" features, including positioning, tracking and parking, the XGEO GC80 combines modern efficiency with user convenience and patient safety. Audio/visual indicators highlight each procedural step, helping to simplify and enhance patient/provider interactions.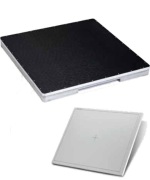 FIT-DR
A high-performance dual-detector digital X-ray system, the solution now incorporates Viztek's Leggera Wireless DR panel with a fixed panel to offer hospitals and clinics improved productivity. With two cesium detectors, the FIT-DR is able to accommodate a full repertoire of X-ray exams without repositioning the patient. The Leggera Wireless Panel is the lightest - 6.1 lb, ISO 4090 cassette size - wireless panel available to the market, enabling hospitals and imaging centers access to the compact panel as well as radical features that include storage capacity of up to 50 images, and two removable batteries. The panel comes equipped with gyro capabilities. The wireless panel also delivers productivity benefits through passive-trigger technology that allows it to detect an X-ray source, and turn on automatically without any need to interface between generator and panel.