by
John W. Mitchell
, Senior Correspondent | June 08, 2015
From the June 2015 issue of HealthCare Business News magazine
This focus on kid counseling epitomizes trends that other experts in the field discussed in interviews with HCBN to provide safer and higher-quality imaging studies, to save and improve young lives. While radiation exposure is not an issue in MRI, there has been great focus in recent years by specialty pediatric radiologists at academic and children's hospitals, on decreasing exposure time and levels while still getting the needed image quality.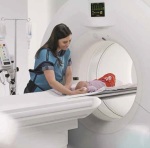 "I think radiation dosing exposure in pediatric patients at children's and university hospitals is generally not an issue, but there appears to be quite a difference at community hospitals without pediatric imaging specialists," says Dr. Marilyn Siegel, Professor of Radiology at Washington University School of Medicine in St. Louis.
She says in a study to be published later this year, that she and colleagues compared radiation exposure in CT scans performed at their children's hospital and at more general community hospitals, and discovered that many pediatric patients undergoing CT at community hospitals received relatively higher radiation dosing, which is primarily accounted for by technical parameters that may not be optimized for pediatric patients.
"Reducing radiation exposure, minimizing need for sedation, and obtaining great image quality are important goals in pediatric imaging," says Siegel. "The new scanners are so fast that even if an infant wiggles some, we still get great images. This helps achieve the goal of reducing the use of sedation in young patients undergoing CT imaging."
To help educate and spread the word among radiologists, referring physicians, technologists, dentists, physicists and parents, in 2008 The Alliance for Radiation Safety in Pediatric Imaging (TARSPI) launched the "Image Gently" program with an unrestricted educational grant from GE Healthcare. The founding members of TARSPI include The Society for Pediatric Radiology, the American Association of Physicists in Medicine, and the American Society of Radiologic Technologists. Some 87 other national and international medical organizations have since joined the alliance.