The hard numbers on radiological interpretation errors
by
John W. Mitchell
, Senior Correspondent | August 18, 2015
Risk Management
X-Ray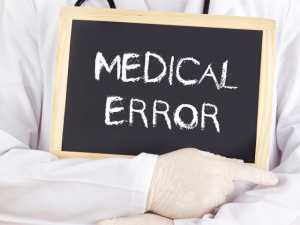 Medical errors related to incorrect imaging interpretation are a long recognized, but underreported, problem. Now a research team at Emory University School of Medicine has quantified these blunders by culling through nearly 1.8 million imaging reports.

"Near-miss errors are a subset of medical errors, and are referred to as events in which the wrong patient or study was involved in the care process, but the issue was resolved before any patient harm occurred," Dr. Gelareh Sadigh, diagnostic radiology resident in the Department of Radiology and Imaging Science at Emory University told HCB News. "Because no injury takes place, such events are often more commonly underreported. But there is always a possibility of such events leading to consequences."

The near misses were most often associated with: mislabeling or misidentification with the wrong patient (52 percent), and wrong dictation (48 percent). These mislabeling or misidentifications most often occurred at the technician level, especially when portable X-ray machines were used (69 percent).

The portables were also associated with 44 percent of wrong dictation events. Some 56 percent of the reports with errors were related to inpatients. The median time for discovering these errors was 22 hours. In total, the researchers estimate near-miss radiology reading errors number approximately one in just under 27,000 — 67 out of 1.8 million.

Dr. Kimberly Applegate, professor of radiology and pediatrics and director of quality improvement and a study co-author, cited two reasons for these errors.

"With portable radiographs, the technologist needs to go from room to room, get the images, collect a stack of exposed plates and then send the images to patient folders. With conversion of computed radiography to digital radiography, this problem has been reduced, although it still exists," Applegate explained. "The second reason, which is true for other imaging tests as well, is the failure to check the two patient identifiers prior to obtaining the image." Despite national patient safety protocols set by the Joint Commission, these ID errors continue to disrupt care.

According to Dr. Srini Tridandapani, assistant professor of radiology and biomedical engineering at Emory and a second co-author, bar codes, which are used in many hospitals to reduce medication dispensing errors, are a possible solution. Tridandapani said that Emory is developing a prototype imaging bar code system for portable X-ray machines. He also said that creating a standard reporting system for such errors would increase awareness and training opportunities to reduce errors.

"Our study was a reminder for our referring physician colleagues that although the prevalence of wrong patient errors at any level is low, it can lead to bad outcomes if it does happen," added Sadigh.

The instances of imaging near-misses in medical literature has been limited, according to Sadigh. Sadigh said that identifying the contributing factors is the only way to design solutions to reduce these mistakes. The Emory study appeared in the August issue of the American Journal of Roentgenology.
You Must Be Logged In To Post A Comment
Registration is Free and Easy.
Enjoy the benefits of The World's Leading New & Used Medical Equipment Marketplace.
Register Now!