From the July 2017 issue of HealthCare Business News magazine
The following are just some of the products and services on display at AHRA 2017. To view these products online, or to share them with colleagues, visit dotmed.com and enter the code DM 37750 in the search window, or enter the address www.dotmed.com/news/37750 in your browser.
New CXDI Wireless Digital Radiography Systems
Canon USA, Inc.
Booth #: 621
At AHRA, Canon will be showcasing its new line of wireless detectors. The new detectors are light*, ergonomically sculpted for a comfortable grip, designed with rounded corners for easy positioning and IPX7 rated**.
*As compared to current CXDI Wireless Digital Radiography Systems.
**For submersion in water up to 1m for 30 min. For information about IPX ratings, see IEC 60529.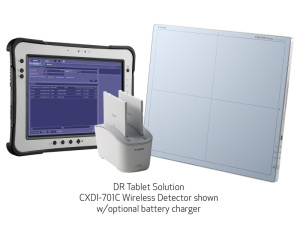 DR Upgrade Solutions
Canon USA, Inc.
Booth #: 621
Virtual Imaging's Room Upgrades, Mobile Upgrades and DR Tablet Solution are three of the solutions that help today's healthcare facilities make the move to DR. With various solutions, healthcare providers can choose the one that best fits their applications, budget and situation.
use tablet-detector group image
Aftermarket CT Replacement Tube - MCS 6074
Varex Imaging
Booth #329
Varex Imaging's MCS 6074 Computerized Tomography (CT) tube is designed as a replacement tube for the GE LightSpeed(R) and BrightSpeed(R) families of CT scanners. The tube has a 200mm (7.9") 140kV, 4.7 MJ (6.3MHU) maximum anode heat content, rotating anode insert. The insert features a 7° tungsten-rhenium facing on molybdenum with a graphite backed target. The MCS 6074 calibrates like the original, has long life bearings with 0.5 second full scans. Varex Imaging offers a full 12-month warranty. Varex Imaging - formerly a part of Varian Medical Systems.