Wireless, handheld spinal ultrasound takes the guesswork out of epidural needle placement
by
John W. Mitchell
, Senior Correspondent | October 02, 2017
Ultrasound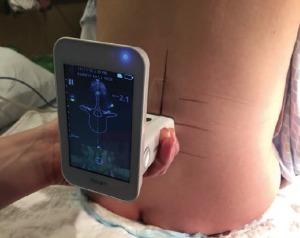 Two recent studies demonstrate the effectiveness of a portable ultrasound device to improve patient satisfaction and anesthesia workflow in placing epidural anesthesia blocks.

A Stanford University Medical Center study team found that the Rivanna Accuro automatic spinal navigation system identified the appropriate interspace for needle insertion in 94 percent of patients, and enabled first-attempt epidural placements in 87 percent of patients.

The most recent Stanford study will soon be published in Anesthesia & Analgesia. Another study conducted at the University of Virginia Medical Center yielded similar findings. The UVA study was published earlier this year in Investigative Radiology.

"The device may improve patient care by decreasing the amount of time it takes to place an epidural and decreasing the number of attempts it takes to place an epidural," Brendan Carvalho, FRCA, chief, Obstetric Anesthesia at Stanford told HCB News. "Pre-procedure ultrasound and epidural depth estimates may also improve the safety of labor epidurals by reducing block failures, decreasing traumatic placements, avoiding unnecessarily high epidural insertions and potentially decreasing accidental dural punctures."

According to Will Mauldin, Ph.D., CEO of Rivanna, which developed the Accuro, without the device, up to 80 percent of first-attempt epidural needle placements fail. He said the device allows the anesthesia provider to more quickly and reliably implement neuraxial ultrasound. The studies found that the device functioned well on both obese patients and those with atypical spinal anatomy.

"Over a decade of clinical evidence and recent meta-analyses have revealed that neuraxial ultrasound, in the hands of expert users, improves success rates, reduces needle sticks, and improves safety," said Mauldin. "However, performing neuraxial ultrasound with conventional machines is challenging, and studies show that using it competently requires a steep learning curve. Furthermore, accessibility of standard ultrasound equipment can be limiting."

He explained that the Accuro device has proprietary technologies that overcome these limitations. Lightweight, portable, and untethered, Accuro weighs less than three-fourths of a pound, and can be used with single-handed operation.

According to Mauldin, the SpineNav3D software automates image interpretation providing instantaneous epidural location and depth. BoneEnhance image reconstruction produces images of bone landmarks that are easier to interpret, compared to images generated by conventional ultrasound systems.

You Must Be Logged In To Post A Comment
Registration is Free and Easy.
Enjoy the benefits of The World's Leading New & Used Medical Equipment Marketplace.
Register Now!