by
Lauren Dubinsky
, Senior Reporter | October 10, 2017
Scientists at the University of Leeds in England may have finally cracked the code for preventing most hospital-acquired infections.
They've designed a textile that when used on hospital doors, can reduce bacteria by more than 90 percent, according to independent tests.
Data from the National Institute for Care and Excellence that was published in 2014 revealed that 300,000 patients per year in England contract HAIs. NHS England estimated that treatment costs about £1 billion a year.

KA Imaging's Reveal 35C detector, currently available as an upgrade solution in the US and selected geographies, can now be sold in the European Union. The detector recently obtained the CE Mark. Contact us at sales@kaimaging.com to book a free demo.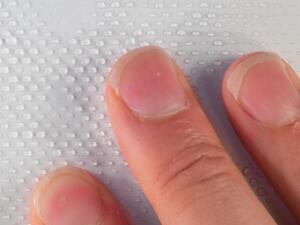 The Surfaceskins textile is intended to be used instead of traditional aluminum door plates. It's fitted into a plastic holder that dispenses a small amount of alcohol gel when it's pushed, and needs to be replaced after seven days or one thousand pushes.
A study recently published in the
Journal of Hospital Infection
, inoculated Surfaceskins and aluminum door plates with bacteria at levels found on the hands of hospital staff for seven days. It found that Surfaceskins was more effective at reducing the levels of the three most common bacteria that cause HAIs.
The scientists cautioned that Surfaceskins should not take the place of strict handwashing rules in hospital. Instead, it's intended to provide an extra line of defense and also increase staff's awareness of the importance of hand hygiene.
The university created a spinoff company called Surfaceskins to further develop the technology. After scoring distribution deals, the company is now seeking a £600,000 investment to expand its sales network and production capability at its Leeds-based facility.