by
John R. Fischer
, Senior Reporter | December 29, 2017
From policy changes to new installations, 2017 has seen an assortment of events and pursuits that have changed our perspective on the state of magnetic resonance (MR) imaging and where it is headed in 2018 and beyond.
With the New Year, a time of reflection, upon us, it seems fitting to go over some of the top innovations that took place in this field over the last year. Here are five of them:
1) First 7T MR scanner cleared and installed in North America

For those who need to move fast and expand clinical capabilities -- and would love new equipment -- the uCT 550 Advance offers a new fully configured 80-slice CT in up to 2 weeks with routine maintenance and parts and Software Upgrades for Life™ included.

The
FDA's clearance
of the first 7T MR system for diagnostic imaging in North America marks almost 20 years since the first 3T MR scanner was cleared for clinical imaging.
In addition to ultrahigh-field strength, Siemens Healthineers' MAGNETOM Terra provides clinicians with the ability to visualize previously unseen anatomical structures as well as hyper-fast image reconstruction technology up to 20 times faster than previous generations of 7T research scanners.
It also has double the signal-to-noise ratio of a standard 3T system, is ideal for patients over 66 pounds undergoing neurological and musculoskeletal exams, can perform diffusion MR and fMR with power generated by 80/200 gradients, and is equipped with the syngo MR E11 software platform to enable users to work in the same fashion as they would with a Siemens' 1.5T or 3T system.
Hype for the system further increased a week following its clearance with the announcement that the first imager would be
up and running
at Mayo Clinic in Minnesota by the end of 2017.
Not only did this mark Mayo Clinic as the first facility in North America to offer advanced diagnostic imaging with a 7T system but also one that could do so with the strongest magnetic force available for clinical use.
2) 15.2T MR scanner installed in Israel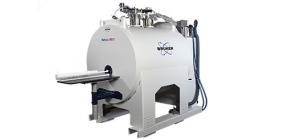 The announcement of the 7T installation at Mayo Clinic was accompanied by celebrations half way around the world upon completion of the
installation
of Bruker's BioSpec 15.2T USR preclinical ultrahigh-field MR system at the Weizmann Institute of Science in Israel.