by
John R. Fischer
, Senior Reporter | May 09, 2018
Need a hand?
Researchers at NYU Langone School of Medicine have developed a new, wearable MR component to help patients with hand-related injuries return to these and other activities more quickly by producing, for the first time, clear images of joint movement for enhanced diagnosis.
"CT is really good at visualizing the bones, but it is difficult to see any of the other structures. Video fluoroscopy, generally only provides a 2D projection with very poor soft tissue contrast," Martijn A Cloos, an assistant professor in the department of radiology at NYU Langone, told HCB News. "MR, on the other hand, provides exquisite soft tissue contrast that can be used to visualize muscle structures, cartilage and nerves."

For those who need to move fast and expand clinical capabilities -- and would love new equipment -- the uCT 550 Advance offers a new fully configured 80-slice CT in up to 2 weeks with routine maintenance and parts and Software Upgrades for Life™ included.

But imaging complex, moving joints, such as tendons and ligaments, has been challenging for MR due to its conversion of radio waves by radiofrequency coils into a detectable electric current, with the radio waves producing minute currents, as a result, in the receiver coils. This, in turn, causes the receiver coils to create their own magnetic fields that prevent nearby coils from capturing clean signals to produce such images.
The MR element overrides this limitation using high-impedance coils stitched into a cotton glove.
Unlike conventional coils, designed as low-impedance structures, the new coils block the MR signal from developing a current, thereby preventing the creation of magnetic fields and the interference they cause for neighboring receivers.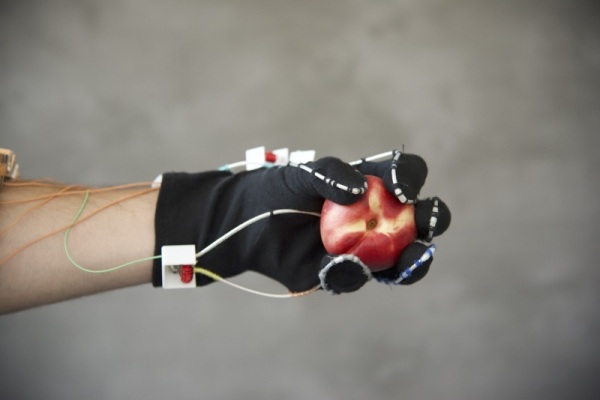 Researchers used the system to examine a hand playing the piano and grabbing objects, finding that it produced clear images of freely moving muscles as well as tendons and ligaments, both of which have historically been difficult to image independently due to their dense protein compositions, appearing as black bands running alongside the bone.
When assessing the hand as it flexed its fingers, the system showed movement of the bands in relation to that of the bones, a finding that researchers claim could help in cataloguing differences in injuries.
The authors hope that the technology will help to construct a more versatile atlas of hand anatomy, produce images of hands in more realistic positions for better surgical guidance, and enhance prosthetic design.
They also suggest that the flexibility of the coils and their immunity to coupling effects make them suitable as comfortable and adaptive MR coils in other applications.
"One particular example application would be a 'beanie-like' head coil for pediatric patients. We imagine that such a coil may be more comfortable and less intimidating," Cloos said. "Moreover, such a coil could adapt to the shape and size of the individuals head, thus providing optimal coverage and image quality."
The findings are compiled in a study published in
Nature Biomedical Engineering
.