From the June 2018 issue of HealthCare Business News magazine
The following are just some of the products and services on display at SNMMI 2018.
Nuclear Medicine Family of Products
Lantheus Medical Imaging, Inc., Booth 707
Lantheus Medical Imaging provides a broad portfolio of nuclear medicine products that help healthcare professionals identify disease and improve patient treatment and care. Our products assist physicians in the diagnosis of conditions affecting the heart, brain, lungs and other organs. Please visit us at the SNMMI 2018 Annual Meeting or lantheus.com to learn more about our suite of nuclear medicine products, including TechneLite® (Technetium Tc 99m Generator), Xenon 133 (Xenon Xe 133 Gas), NEUROLITE® (Kit for the Preparation of Technetium Tc99m Bicisate for Injection), and QUADRAMET® (Samarium Sm 153 Lexidronam Injection).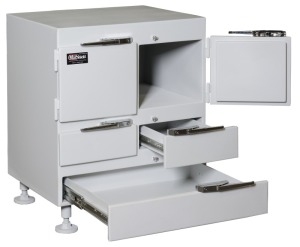 Lead Lined Laboratory Furniture
MarShield, Booth 443
MarShield manufactures a wide range of Standard or Custom Designed Lead Lined Laboratory Furniture suitable for Nuclear Medicine or Radiochemistry laboratories. MarShield has worked extensively with architects, engineers, contractors and end-users like doctors, hospitals, laboratories, and medical and veterinary clinics to ensure that our designs are functional and harmonious with their surroundings while meeting radiation code requirements. Please refer to our Cabinet/Furniture quotation and information guidelines at MarShield.com to design one for yourself today!
PETtrace cyclotron
GE Healthcare, Booth 429
With the PETtrace 800 Cyclotron Series, you can reliably deliver FDG to a large number of clients, or supply a research program with a wide range of tracers. It offers the efficiency required to facilitate your clinical schedules, flexibility for research protocols and the performance necessary to meet regional distribution demands. Stop by booth #429 to learn more about producing Gallium 68 on your PETtrace 800 cyclotron.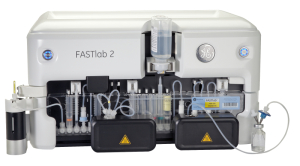 FASTlab 2 Synthesizer
GE Healthcare, Booth 429
What sets FASTlab 2 apart from all other chemistry systems is its unique, cassette-based design. Pre-measured quantities of every chemical and component needed for the synthesis of a radiopharmaceutical are contained in a single cassette. That means it only takes two simple steps to start producing virtually any clinical tracer you need. All you have to do is drop in a pre-loaded cassette and the system is ready for processing. Now you can also purify and label your Gallium-68 tracers in one cassette. Stop by booth #429 to learn more about Gallium-68 and FASTlab 2.