by
Gus Iversen
, Editor in Chief | October 19, 2018
From the October 2018 issue of HealthCare Business News magazine
Ideally this would be a handheld consumer device, so give me a thousand years on that one, but right now we're trying to strip away to the best of our abilities, the complexity and cost. One of the striking features of the Zap-X is that it does not require a radiotherapy vault. It the first therapeutic radiation device ever made that does not require a vault, because we find that the vault itself is a major impediment to the wider dissemination and availability of radiosurgery.
It is entirely self-shielding, which is a bit of a breakthrough, and is only possible by virtue of the fact that we are focusing on a specific set of anatomy.

KenQuest provides all major brands of surgical c-arms (new and refurbished) and carries a large inventory for purchase or rent. With over 20 years in the medical equipment business we can help you fulfill your equipment needs

HCB News: How is Zap-X different from Gamma Knife?
JA:
Gamma Knife uses radioactive cobalt to generate its radiation, and that in itself is a big problem. Cobalt is magical stuff in some respects and makes optimally-tuned energetic particles, but it's such a dangerous thing and poses lots of complexity in the way access to cobalt is regulated. For instance, a terrorist incident with a Gamma Knife could be very destructive.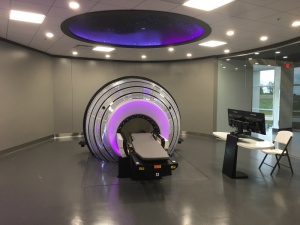 Gamma Knife also requires a vault and stereotactic frame to immobilize the patient's head, whereas we use image guidance, which is nicer for the patients and also allows us to spread treatment out over a few days more easily. We have a potential to be much faster and perform higher-quality treatments, but a lot of that isn't fully baked into the product yet, so that's coming.
HCB News: In terms of cost, what kind of savings are we looking at?
JA:
One of the objectives is to sell a Zap-X with the facility in which it goes, for approximately half to one-third of the cost a competing device might have. It really depends on what kind of facility you're trying to build, but since we don't require a vault, which can be a $1-2 million proposition, that's a big part of our savings – and the machine itself costs much less as well.
HCB News: Is the footprint comparable to CyberKnife and Gamma Knife?
JA:
Yes, the square feet required to install the system is the same, although an alternative system would have five to six feet of concrete taking up a lot of that space.
HCB News: What's next for Zap X?
JA:
We need to start patient treatments and we will learn a lot as we treat our first few patients. We expect to install two or three in the next year in the U.S., and a system is going to a prestigious hospital in China called Beijing 301, but we won't grow substantially until the following year, and after that we have significant plans for growth. This year we're still doing our initial clinical shakedown.