Canon Medical Systems showcased a new artificial intelligence (AI) technology at the 2018 RSNA annual meeting that will utilize deep convolutional neural network image reconstruction, along with a new 1.5T MR scanner with features meant to enhance workflow.
The 510(k)-pending image reconstruction technology, called Advanced Intelligent Clear-IQ Engine (AiCE), uses deep learning to differentiate signal from noise, providing CT images with much more detail, said John Reyes, a product manager for Canon's CT business unit.
Story Continues Below Advertisement
Special-Pricing Available on Medical Displays, Patient Monitors, Recorders, Printers, Media, Ultrasound Machines, and Cameras.This includes Top Brands such as SONY, BARCO, NDS, NEC, LG, EDAN, EIZO, ELO, FSN, PANASONIC, MITSUBISHI, OLYMPUS, & WIDE.
"The system has trained itself to understand what noise is and what signal is," Reyes told HCB News during an interview on the show floor at McCormick Place. "If it's not noise, it keeps it. If it's noise, it throws it out. That allows us to improve the image quality and makes it dose neutral."
The AiCE algorithm was trained on high-quality images and is able to reconstruct CT images with better spatial resolution than Model Based Iterative Reconstruction and is able to do it three to five times faster, according to Reyes.
The system is also being trained on pediatric images for use in future applications, Reyes said.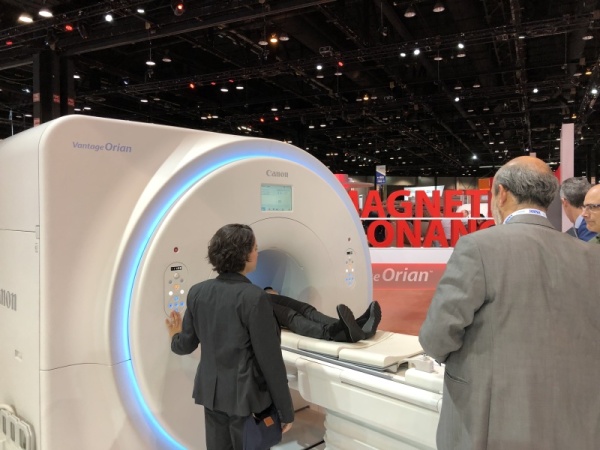 The company also showcased its recently FDA-cleared premium 1.5T MR system, the Vantage Orian. The scanner is designed so that all of the cables are in the gantry, said John Furuyama, senior manager of market development for MR at Canon Medical Systems.
"Before, all the cabling has to go out of the room into a computer room – we are doing everything here in the gantry," Furuyama told HCB News. "By moving everything here, it allows us to do some cool things. For one, it allows us to put an individual analog to digital converter available for each of the 128 channels on this system. Not that anybody ever would, but they could connect up to 128 elements at once, so basically you could cover the person from head to toe and scan them. Usually that doesn't happen, but if there was a patient that needed everything scanned, you could do it probably in one setup and just have the scanner move the patient each time. It saves on the repositioning, but it also allows you to have whichever coil you want, whenever you want."
The Vantage Orian also has what the company is calling Peer RF digital noise reduction, which subtracts noise to create clearer images, getting 38 percent more signal to noise ratio, Furuyama said.
The table of the Vantage Orian is also fully detachable for use in emergency situations.
"Just in case something goes wrong and emergency personnel need to react quickly, this table allows you to remove a patient immediately," Furuyama said.
The scanner comes with new software, which is also available on Canon's 3T Vantage Galan system, including Quickstar, which allows for free breathing during abdominal imaging, and KneeLine+, which allows for more automated scans.
"Realistically, a tech could set up the coil, move the patient in, (press) start and the scanner can drive itself," Furuyama said.
New Multiband Speeder and KT Speeder software enables faster imaging for certain specialties.
"In the case of cardiac, sometimes cardiologists like to have higher frame rates, so it allows them to see their faster scanning, or in the patient's perspective, shortening the amount of time they're in the magnet, which is great for everybody."