Improving surgical outcomes by imaging head and neck tumors in real time
by
John W. Mitchell
, Senior Correspondent | April 19, 2019
Operating Room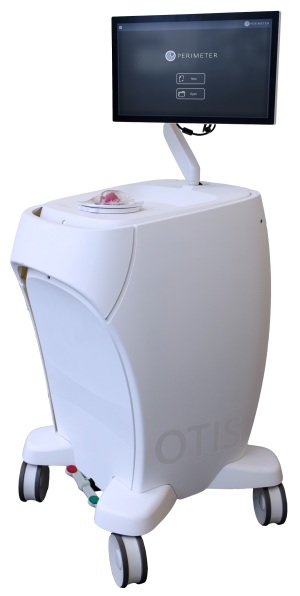 A new optical imaging technique called high-resolution microendoscopy promises to give surgeons more operative control of tumor resections while preserving healthy tissue in the sensitive functionality areas of the larynx, throat, and palate.

"This type of technology could allow surgeons to determine if surgical resections were adequate in real time. We are currently using the system to scan a variety of tonsil and tongue cancers in order to develop a library of images to test the correlation of the system against pathological slides, which are the current gold standard," Dr. Brett Miles, Co-Chief of the Division of Head and Neck Oncology, Icahn School of Medicine, Mount Sinai Health System told HCB News.

The Otis Wide Field OCT (OTIS) developed by Perimeter Medical Imaging will be used in the study. OTIS technology provides between 10 and 100 times the resolution of traditional imaging platforms such as ultrasound or MRI, according to the company. The technology has already been broadly adopted in ophthalmology, cardiology, and dermatology the company noted.

"The OTIS platform was selected for this study because it offers rapid real-time, high-resolution capture of OCT (optical coherence tomography) images and can be used in the operating room at the time of surgery," said Miles.

Oral and head and neck cancers are among the most rapidly increasing forms of cancer in the U.S., especially among young populations. Such cancers occur in the tongue, tonsils, and throat, as well as the nasal cavity, sinuses, lips, mouth, thyroid, and salivary glands. The Head and Neck Cancer Alliance projects that in 2019 about 550,000 new cases will be diagnosed, with about 300,000 deaths.

"State-of-the-art imaging platforms, such as the OTIS system and others, will likely play a significant role in the future of head and neck cancer surgery," Miles said. "While traditional pathologic examination of tissue is the standard around the world, we need new technology to allow us to detect cancer and ensure adequate resection."

Perimeter projects that the growth of the optical imaging market to grow nearly 11 percent by 2025.

You Must Be Logged In To Post A Comment
Registration is Free and Easy.
Enjoy the benefits of The World's Leading New & Used Medical Equipment Marketplace.
Register Now!