From the May 2019 issue of HealthCare Business News magazine
Securing medical devices will also be an area to watch. The Food and Drug Administration issued new guidance in 2018 to assist device manufacturers with their medical device design and regulatory framework for submitting premarket submissions. As any device could become a malware entry point, manufacturers, hospitals and other stakeholders will need to continue to integrate security platforms into their designs.
Research shows that cyberattacks are on the rise and the healthcare sector has been a common target. Researchers in Israel were able to create a computer virus capable of impacting CT scans and MR scans by adding tumors.
Protecting these assets and institutions has been a top priority, and M&A in the cybersecurity sector has been moving at a feverish pace. Blackberry acquired Cylance last year for 1.4 billion dollars (a 10.8X revenue multiple), and Cylance's healthcare business uses artificial intelligence to assist hospital IT departments to protect their infrastructure and perimeters.
With the healthcare sector a common ransomware target, it is expected that healthcare-related cybersecurity M&A will increase in 2019 as leading security companies in the sector continue to move into healthcare with vertical solutions. Moreover, medical device and diagnostic companies need to consider their cybersecurity strategy and potentially acquire security companies themselves to gain an edge or even stay relevant. Relying on third parties to secure EHRs, medical devices or diagnostic equipment may no longer be sufficient.
Should Phillips or Siemens acquire a security company in the software-defined perimeter space to enable real-time visibility of security threats of all of their assets, whether or not they are behind a firewall? Will hospitals require their vendors to have their own security protocols integrated directly into their products? Or will a few dominant players emerge with horizontal solutions that are designed to protect all of the software and connected devices in a clinical setting?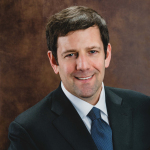 One thing is for sure, whether it is cybersecurity, IoT or clinical trial management, the pace of M&A is expected to continue in the healthcare sector in 2019.
About the author: David Levine has been in the life sciences and technology sectors for over twenty-five years. He is currently Senior Vice President at the Corum Group and is active in mergers and acquisitions for healthcare technology, pharmacy technology and software companies.
Back to HCB News